Saje Grand Opening in Rideau Centre
Nancy: Recently Saje opened a store in Rideau Centre in Ottawa and invited Whimsical Soles to learn about their products! Bolu couldn't make it because she had an exam the very next morning but I was all pumped and ready to go. I met up with one of the founders, Jean-Pierre Leblanc, and had a quick chat about his products, how they work, and how they can benefit students.
To be honest, before this event when I was living in Vancouver, I've never been inside a Saje store (even though it's from my home province BC!). Mostly, it was because I was living at home with my lovely parents who made sure that I ate well and kept a healthy lifestyle. Plus, every time I passed the store in Metrotown, it looked so high-end that poor high school me was too intimidated to walk in. But now that I'm older and living independently, I've started appreciating my body and learning about how to live holistically and healthily.
One of the most important questions I had for Mr. LaBlanc was how university students can incorporate Saje products into our lifestyles. Many of us want to be healthier, look and feel good, and get awesome grades (and more sleep. Always more sleep). He highlighted these products in the polyvore set above as the basics.
Let me break this down for you:
1. Pocket Pharmacy - Before I spoke with Mr. LaBlanc, Saje Rep. Josh came by to demo the pocket pharmacy to me and now it's my newest obsession. First of all, the zipped pouch is actually made from a water bottle. Inside, there are 5 essential oils (made of 100% natural ingredients) to life-proof you. I'm dead serious. I bought one and have been obsessed with it for the past few days. Each roller bottle contains 5 ml. of delightfully scented oil for a specific purpose. Peppermint Halo is my favourite: it's a quick acting headache relief (just roll some on your temple) and acts as a relaxer for the shoulder and neck (keep rolling). Within a minute or two, it'll start tingling and feeling super awesome and refreshing. Eater's Digest is great for stomach discomfort or in my case, heartburns. Immune is for those sick cough days. Stress Release is the ultimate aromatherapy and Pain Release is great for muscle aches after gym sessions.
2. Quick Study - Here's the product that Mr. LaBlanc raved about for students. It's an essential oil blend that helps users concentrate and focus better! So there's two ideas behind it. First, the scent of the oil blend keeps you on track with whatever work you're doing. Second is the idea of Anchoring; basically, humans are excellent at recalling memories that are associated with a specific scent, so if you study with this scent, and then swipe the roller on your hand again during exams, you'll remember the memories of everything you studied. Magical stuff right?
3. AromaBreeze Nebulizer - A nebulizer is basically a more powerful diffuser. Aromatherapy is usually used for relaxation but Mr. LaBlanc shared a tip with me: In the mornings before he gets to work, his assistant will use the Quick Study essential oil (Brainstorm diffuser blend collection) in his office nebulizer so that when he gets to the office, he immediately benefits from the aromatic mental boost. Talk about thinking ahead! This particular model has three uses: aromatherapy, air purifier, and humidifier. You only need 10-15 drops of oil per use and each little bottle comes with roughly 150 drops, which makes it really worth it (Yes I really did ask the founder how many drops there were in each bottle #CollegeBudget).
I also satisfied a few curiosities of mine about how their products work (side effect of being the daughter of a former doctor). In the Saje Travel collection, there's an alcohol-free hand sanitizer. The alcohol is usually the culprit in the skin drying qualities of most sanitizers. Instead of alcohol, the Saje hand sanitizer uses tea-tree oil to kill germs and a blend of other natural ingredients (such as lavender) to moisturize hands at the same time.
Lastly, I asked about the Eczema skin products since both Bolu and I suffer from the skin condition. Mine is usually very mild (with the occasional itchy bumpy flare-ups ugh) so I tend to shy away from medicated creams. I bought the Eczema Ease lotion, which is for mild to moderate cases and is suitable for body and face. I've been using it for the last few days on my cheeks and neck and I LOVE LOVE LOVE it. Seriously, no more redness, no more itchy-ness, and I swear my skin feels softer. I bought the 100ml in the travel-friendly tube and it's probably going to last me for a long time. The lotion is thin and spreadable so a little goes a long way.
I got a picture with the two lovely sales people at Saje, Katie (left) and Gwynne (right). They're so cute and friendly. I wish you could see my bag of purchase... It was massive. Granted, I was completing the shopping list for Bolu, myself, and our friend Ailey who's a huge fan of the brand.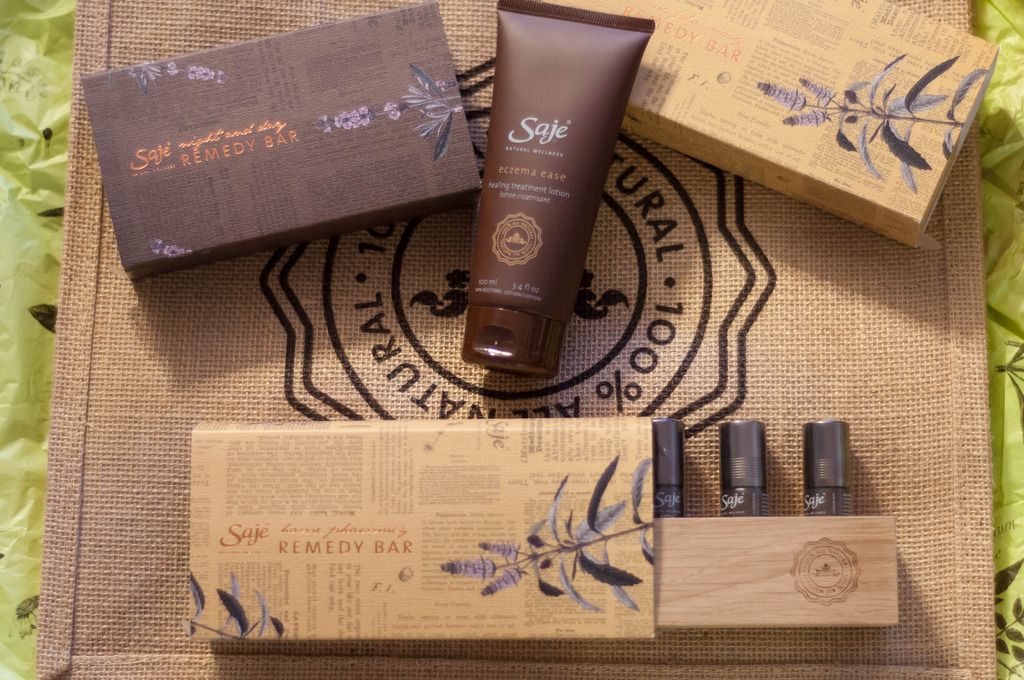 Only the Eczema Ease lotion is mine, the rest are Ailey's. The Remedy bar is basically a larger sized Pocket Pharmacy and it comes with the wooden bar that the essential oils sit in. It's a super neat way to keep these babies by your bedside or in the office.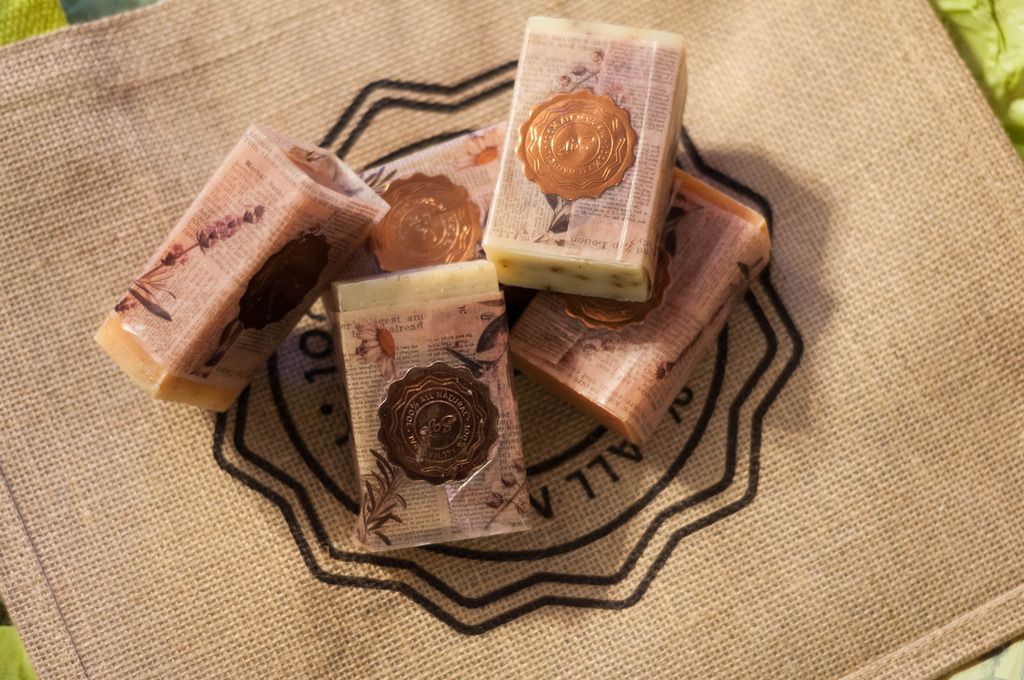 Most of these soaps were for Bolu but since they had a 5 for $20 deal, I got one for myself as well. She got so lucky because I was just by the soap area when I heard Katie mention that they're out of the Lavender Lustre bars, so I snagged the last one that was serving as a prop.
This one's all mine. After being demo-ed the Pocket Pharmacy, I was sold. I actually demo-ed it to Bolu later and now it's on her must have list. I tried the Eater's Digest tea in store and though normally I dislike things with licorice flavour, this tea was actually quite delicious. It also serves a health function by helping with digestion and other stomach issues that I also happen to have.
Not pictured was a Konjac natural aloe vera sponge and a small packet of Yoga bath salts. I passed on the Quick Study since I'm usually a quick study when it comes to school work (hardy har har). The nebulizer is on my new apartment list, for when I decide on my next home after graduation.
If you're thinking about checking out a Saje store near you, I definitely recommend it. The sales people are knowledgable and friendly and the products are fantastic. The only thing to keep in mind is that most of their products, due to their natural ingredients, are strongly scented.
Have you tried Saje? What are your favourite products?
Till next time,
~Nancy