Trending 2015: Double Denim
Bolu: A risky trend that could easily go terribly wrong or amazingly right-- double denim is back in style. Back in the 90s at the height of Britney and JT, double denim was everywhere. Celebrities would rock the red carpet unabashedly in head-to-toe denim. The fashion world quickly saw the error of it's ways and the trend was never to be seen again... or so we thought. Double denim is everywhere in Spring/Summer 2015 runways and done correctly, this time, it could be here to stay .
Bolu: For me, the important rule to live by when rocking this trend is to always remember the 2 shade rule. I prefer to pair a light wash with a dark as I did with this outfit. Also, keep it clean. Many denim faux pas from the 90s were partly due to these outfits being overly complicated. There's no need to wear a denim jacket, with a denim hat, along with a denim dress and boots. Keep it clean with classic silhouettes such as skinny jeans with a denim blouse or jacket.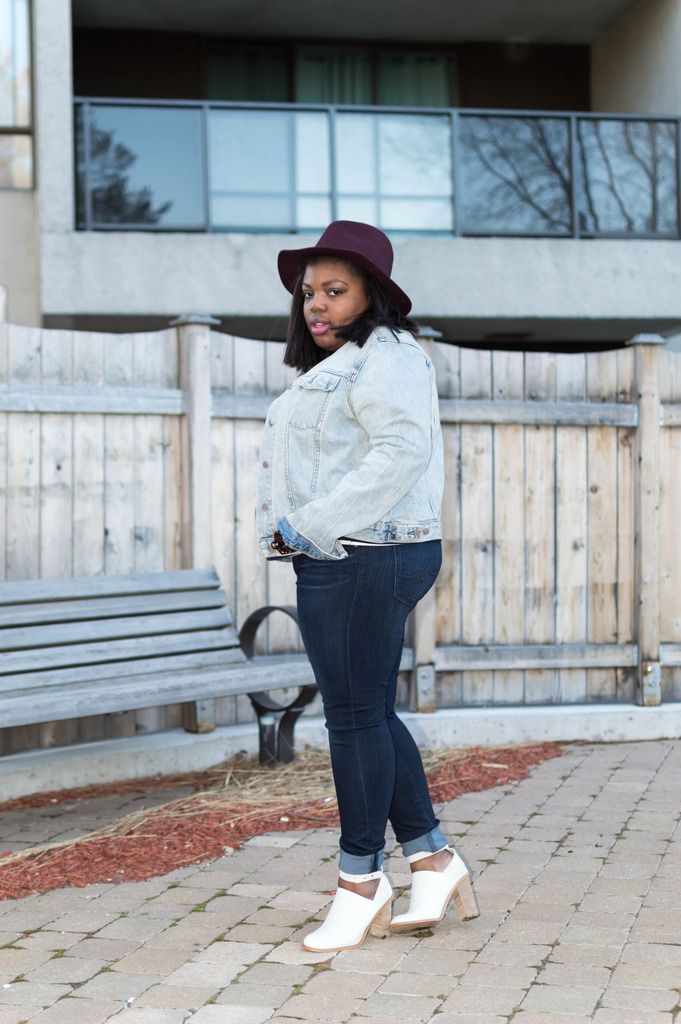 Bolu: I got these AG Jeans at Holts when they were closing the DownTown Ottawa location. They fit like a glove and are so so soft, they were definitely worth the splurge (even at half price). My denim jacket is from Gap as well as my stripped T-shirt.
Nancy: I love me some denim but more than one piece in an outfit? It reminds me too much of western cowboys and this one crazy denim patch skirt I used to own (and left) back in the early 2000s. But how times have changed. Having seen it everywhere in S/S15 and on Emma Watson for Elle, I have been persuaded over to the dark side.
Nancy: This is the only denim shirt I own and usually I wear it as a light cardigan due to it's relaxed fit (I also hate buttoning things). I thrifted it some time ago at a second-hand store on Bank Street in Ottawa and it's super soft. To balance out the sloppiness, I paired it with some dark skinny jeans I picked up from Hollister this past Christmas. I love how the pocket details repeat on the top and the bottom. Ironically, to avoid a cowboy flashback, I picked my Banana Republic polka-dotted skinny belt (which reminds me of cows) to finish off the outfit.
Boots, in my opinion, should be avoided unless you're trying to make an ultra statement. For me, the denim trend is a great trend to wear on a lazy Sunday, which explains the flip flops (and not the fact that I was trying to break in my flats but got broken in instead).
Till next time,
~ Bolu & Nancy