Summer. Glow. Beauty.
[layerslider id="1"]
Bolu: Lately, I've been obsessed with expanding my makeup collection. Only a couple years ago I hardly wore makeup except for the occasional eyeliner and mascara. Now things have changed and I'm all into the world of cosmetics. I'll partially blame this on my obsession with youtube tutorials, makeup gurus, and on a smaller scale this blog, but cosmetics and fashion have always gone hand in hand. Now I fully appreciate it, a bit too much some might say...
A couple weeks ago Nancy and I went to Sephora and M.A.C. so I could pick up some false lashes (truthfully I think it was more an excuse to take a break from exams). Needless to say, I ended up picking up much more than I had planned. A great makeup artist at Sephora in the Rideau center was bored and offered to "make me glow" I went along with it and fell in love with the end result.  I was completely sold on these products and I admit, I shamelessly spent the rest of the day staring at myself in every reflective surface I came upon. And that is how I was introduced to my favourite beauty products for the summer. These products are perfect for achieving a subtle summer glow! Also, part of this haul are some brushes I picked up as well as my new favourite lip products.
[vc_text_separator title='BRUSHES' title_align='separator_align_left' border='no' border_color='' background_color='' text_color='']
Top: Sephora Classic Mini Multi-tasker Brush 
Bottom: MAC 217 Blending Brush
Bolu: For anyone looking to build up their makeup collection, brushes are so important and have a pretty big effect on the final look. Every artist needs the correct supplies which are essentially what brushes are in relation to makeup. I still have quite a long way to go in terms of brushes so I decided to pick up the essential foundation brush and eyeshadow blending brush. The Sephora brush is so pretty and the small size makes it super easy to handle. The bristles are soft and apply foundation smoothly (great for buffing). The MAC 217 brush is rightfully a cult favourite; it blends eyeshadow flawlessly and seamlessly, I love it.
[vc_text_separator title='FACE' title_align='separator_align_left' border='no' border_color='' background_color='' text_color='']
Left: Bobbi Brown Foundation Stick in Espresso 
Right: Smashbox Venice Beach Bronze
Bolu: Contouring is BIG this year and I've been trying to figure out how to do it for ages. Thanks to Sephora, I think I've finally gotten the hang of it. I was so excited to try out the Bobbi Brown foundation stick as my contour. It's very creamy and the colour (espresso) is perfect to offset my highlight. It's also super pigmented so you only need a tiny amount to get the job done. I love that both these products are blendable and buildable which is great for a natural look. Also, the creaminess is perfect for my dry skin, which gives me that dewy summer look that powders simply can't imitate. The Smashbox highlight is amazing. The gold shimmer looks great on my skin tone and really helps to bring out the areas of the face I apply it to.
Some basic guidelines: 
Areas to highlight: cheek bones, nose bridge, forehead V, brow bone, chin.
Areas to contour: sides of nose bridge, under cheek bones, forehead, jaw.
Bolu: Make sure to thoroughly blend in order to avoid an obvious line of demarcation. Once completed, the light will catch and reflect the areas you have highlighted and the contour adds dimension to the face making areas such as your cheekbones pop!  I'll usually only highlight/contour when I'm doing a full face of make-up so I like to add blush to my cheeks and highlight on top.
Left: Smashbox Hollywood & Highlight
Center: Bobbi Brown Foundation Stick in Espresso
Right: Smashbox Venice Beach Bronze
Nancy: When makeup artists offer to do my makeup, I always say yes just to see what I end up looking like. Being Chinese and having very oriental features, I tend to get all sorts of comical results when Western-trained artists try to do my makeup as they normally would a person with double eye-lids for example. A while back, I was super impressed by an artist from Benefit who gave me the most awesome glow that I wasn't able to replicate afterwards. Those sad days are now over as Johnny from Sephora gave me the most gorgeous summer glow and enhanced my unique features rather than trying to make my face conform to what he knows. I just want to take him home with me.
Surprisingly, he used the same Bobbi Brown foundation colour on me as he did with Bolu for contour. Even more shocking was that it worked.
Tips for contouring:
1. Use a colour that's warm rather than cool will blend better and look less like you accidentally rolled in mud.
2. Don't pull your contour line for the cheekbones too close to your lips as that gives a strange skeleton effect. Follow the contours of your natural bone structure.
3. As Bolu has mentioned, blend blend blend BABY. Blending makes everything better, softer, and more natural.
I'm obsessed with Smashbox's entire line of L.A. Lights Blendable Lip and Cheek colour. The colours are so natural, glowly, and dreamily creamy. I think I may go back and buy the entire line. Seriously. From the left, the Hollywood & Highlights has the most gorgeous shimmer and on the right, the colour is the same Venice Bronze that Bolu uses as a highlighter. But on my medium skin tone, it works beautifully as a blush and bronzer. If you have dry skin, I 100% recommend this product! Like the Bobbi Brown foundation, the stick format means that it's convenient for travelling, mess-free, and SO easy to apply.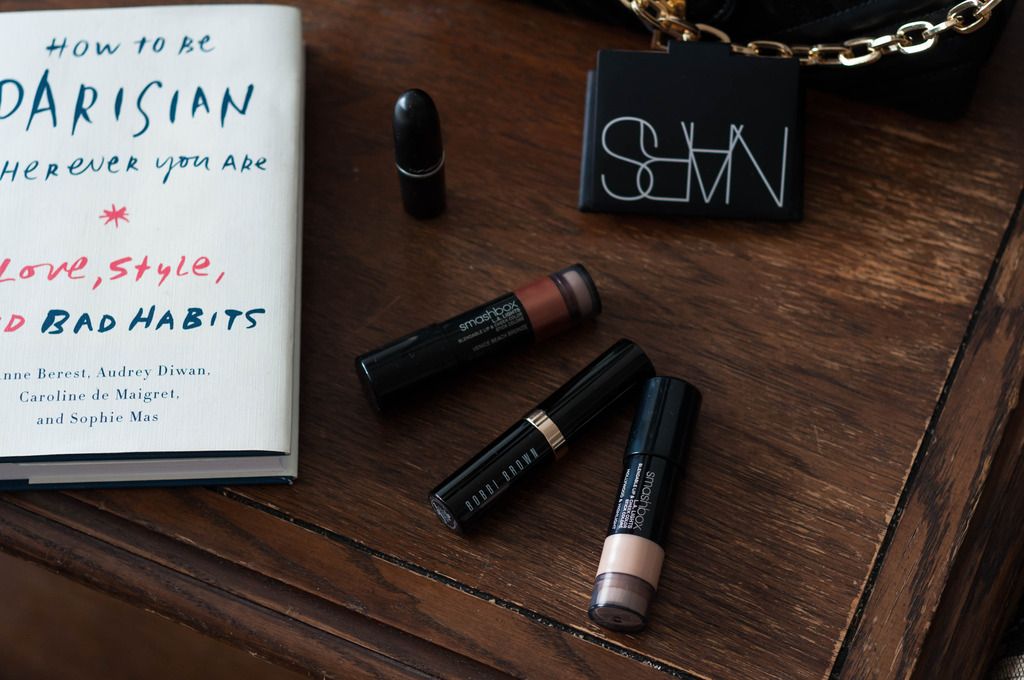 Bolu: I've mentioned earlier that powder isn't the best for glow and unfortunately, this product is not great for dry skin as the powder gives me a dull finish which I am not a fan of (goodbye money :( next time I'll do my research before I purchase). However, I think it would be a great contour for anyone with oily or combination skin.
[vc_text_separator title='LIPS' title_align='separator_align_left' border='no' border_color='' background_color='' text_color='']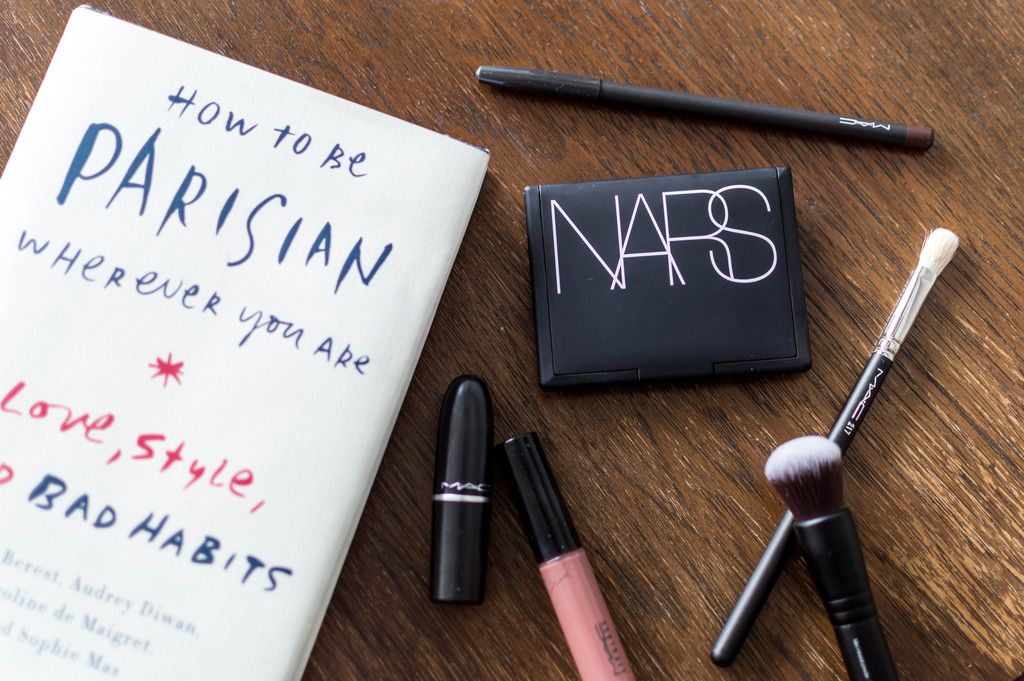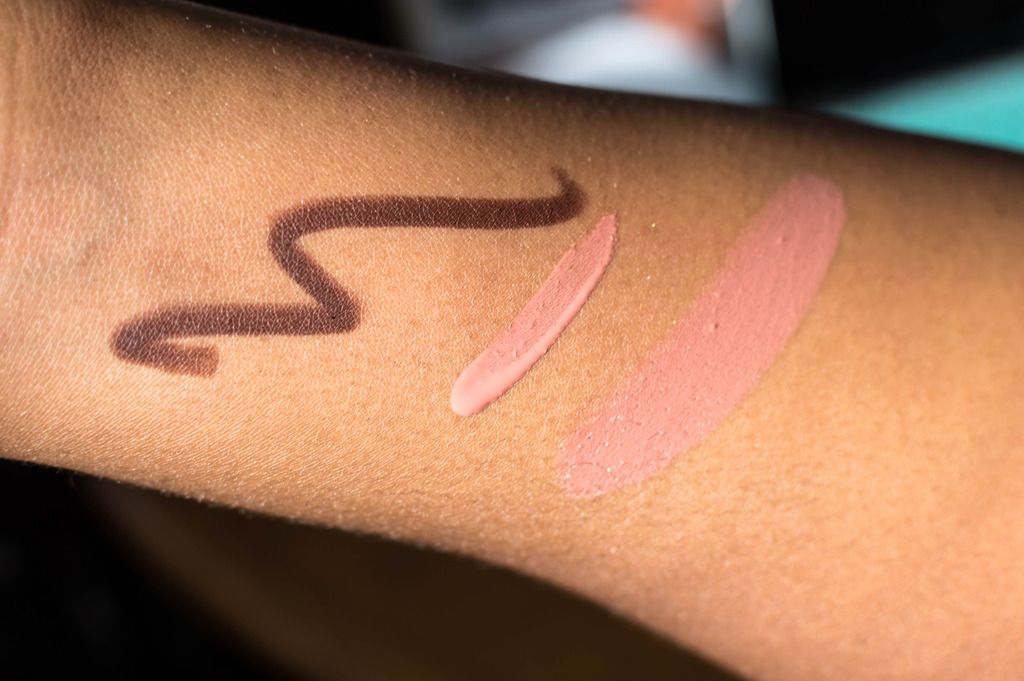 Left: MAC Chestnut Lip Pencil
Centre: MAC Tinted Lip Glass "LUST" 
Right: MAC Lipstick "Half n' Half"
Bolu: I love a peachy nude colour for my lips so I picked up Half n' Half lipstick from Mac as well as a Lust lip glass. Other similar colours to achieve the same look are Lovecraft and Peche. This MAC lipstick is quite creamy and smooth. I like to define my lips with the dark chestnut lip liner,making sure to use a lip brush to soften and blend out the line. Next, use a light nude liner as a base colour all over my lips (not pictured) and then go over it with a lipstick. To add some shine, layer on the lip glass. This is my perfect everyday lip-- a nude will never fail.
Side Note: The thing I love about this lipglass is that it's actually made to be worn alone so when I don't want to do the whole lip process (aka too lazy) I can just put on the lip glass and be good to go!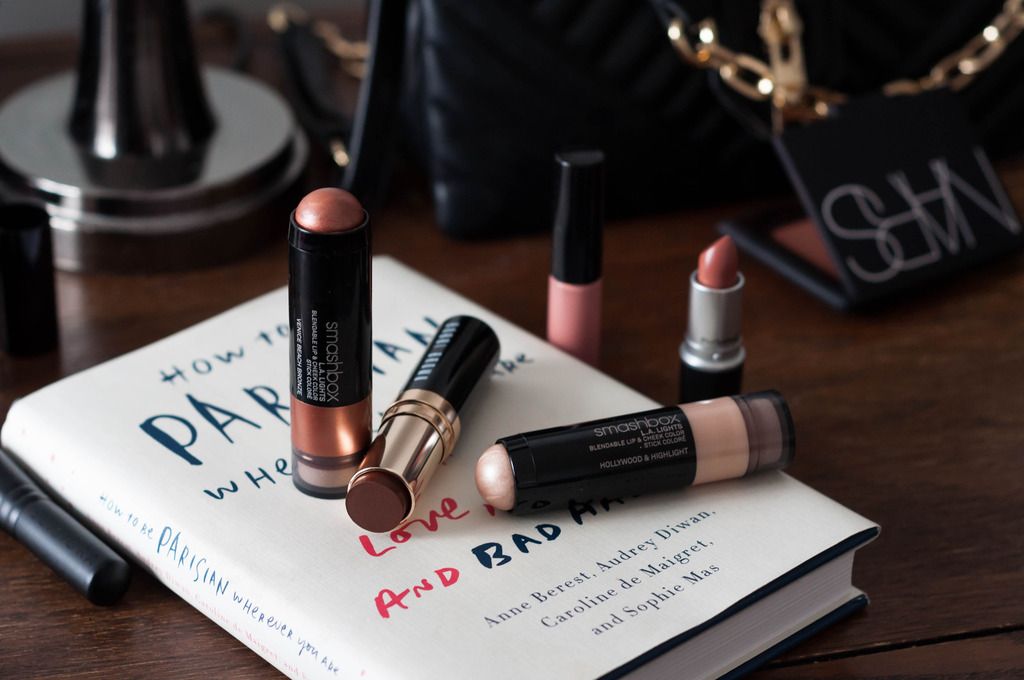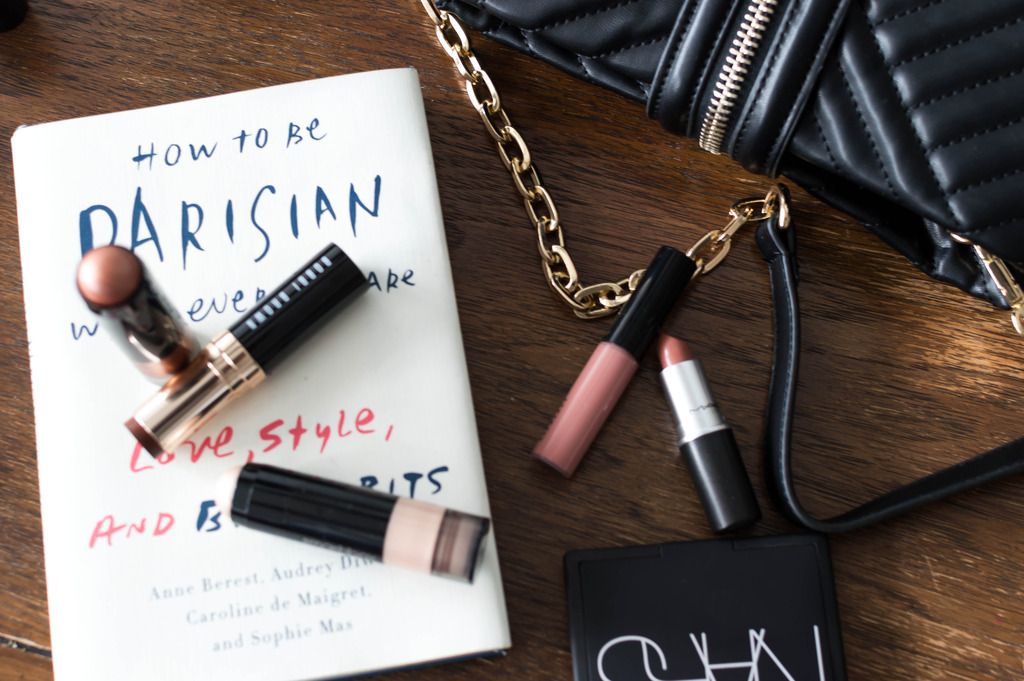 What are your summer beauty must-haves?
Till next time,
~Bolu & Nancy
P.S. We're currently reading How to Be Parisian Wherever You Are: Love, Style, and Bad Habits and we love it. We highly recommend it if you're looking for a fun read or simply want the lowdown on fashion and lifestyle tips with a side of charmingly witty adlibs from the ever elusive Parisienne woman.