Equus asinus × Equus caballus (Mules, baby!)
Bolu: Summer 2015 has been all about the mule. How such a gorgeous shoe could share the name of the offspring of a male donkey and female horse I'll never know. However, the mule has been reborn as the most fashionable shoe of the year. Seen on runways, celebrities and bloggers alike, everyone wants a piece of the mule.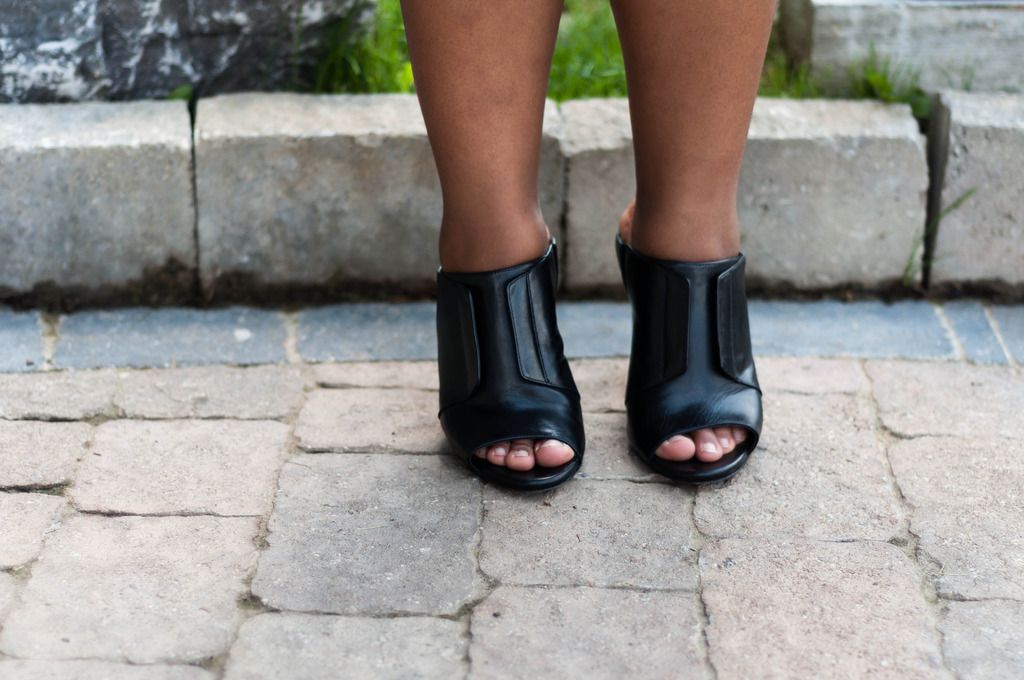 The great thing about the mule comes down to ease of access. There's just something effortlessly chic about them. The mule brings to mind the comfort and ease of slipping into flip flops without the unfortunate look of flip flops. They can be dressed up or down, paired with boyfriend jeans or a flowly midi skirt as I have done in this look.
I instantly fell in love with this skirt when I first spotted it at Club Monaco. Unfortunately I was not willing to spend nearly $200 on it, so imagine my surprise when I saw it on sale a few months later with my size available. Clearly it was meant to be, I had to get it.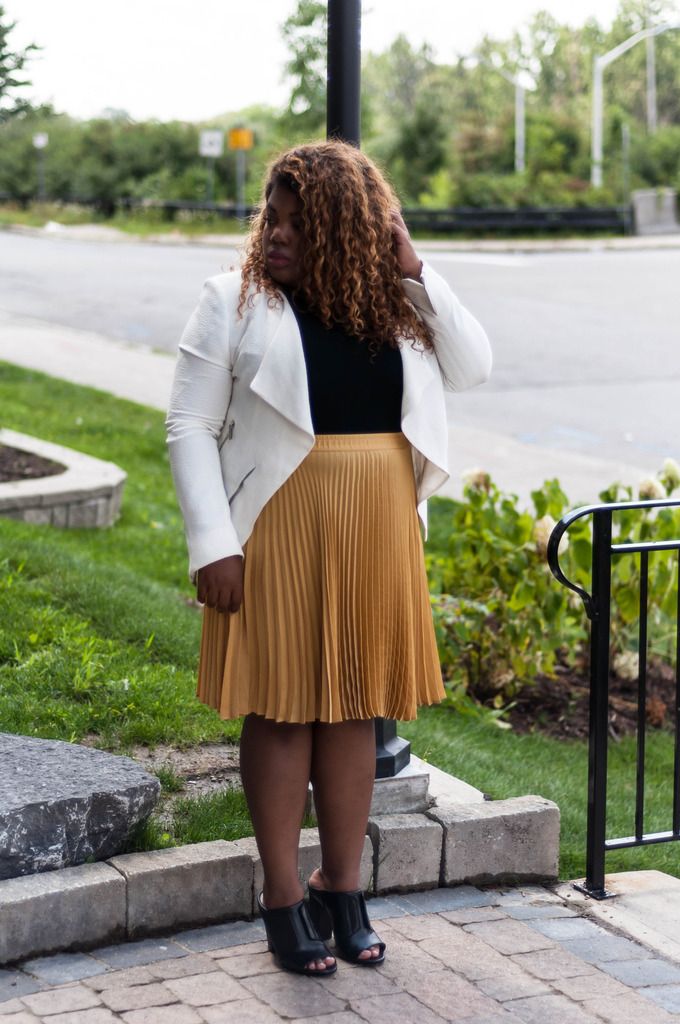 I absolutely love the colour and style, it's super flattering and can be worn either casually or more dressed up. Here I have styled this outfit to wear to work. I tucked my crop top from Banana Republic into the skirt and topped it off with this gorgeous unstructured blazer from RW&Co.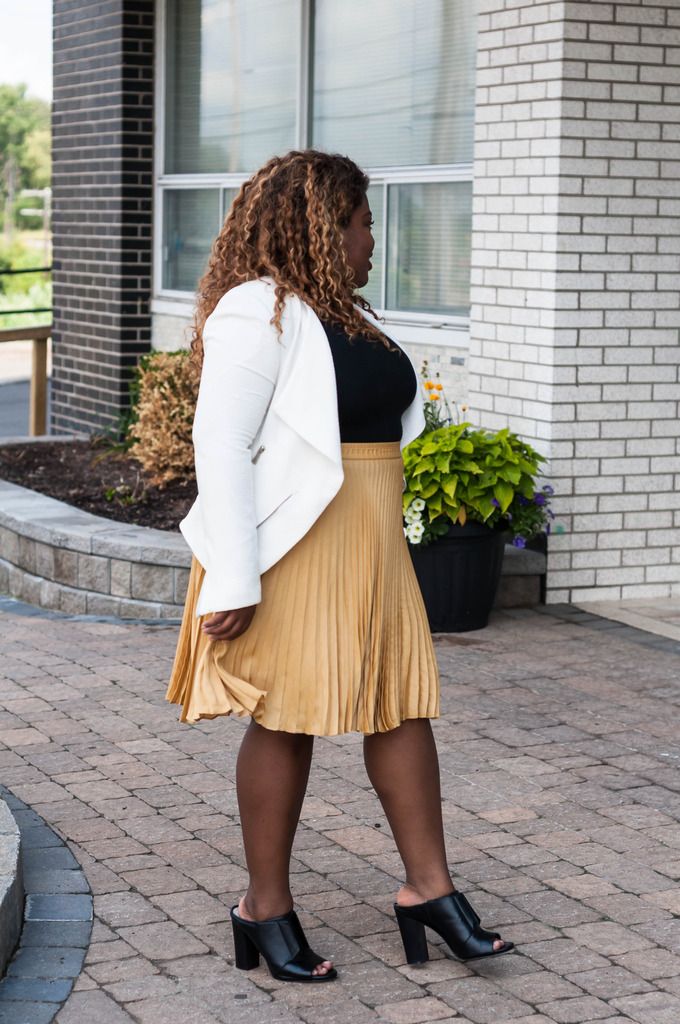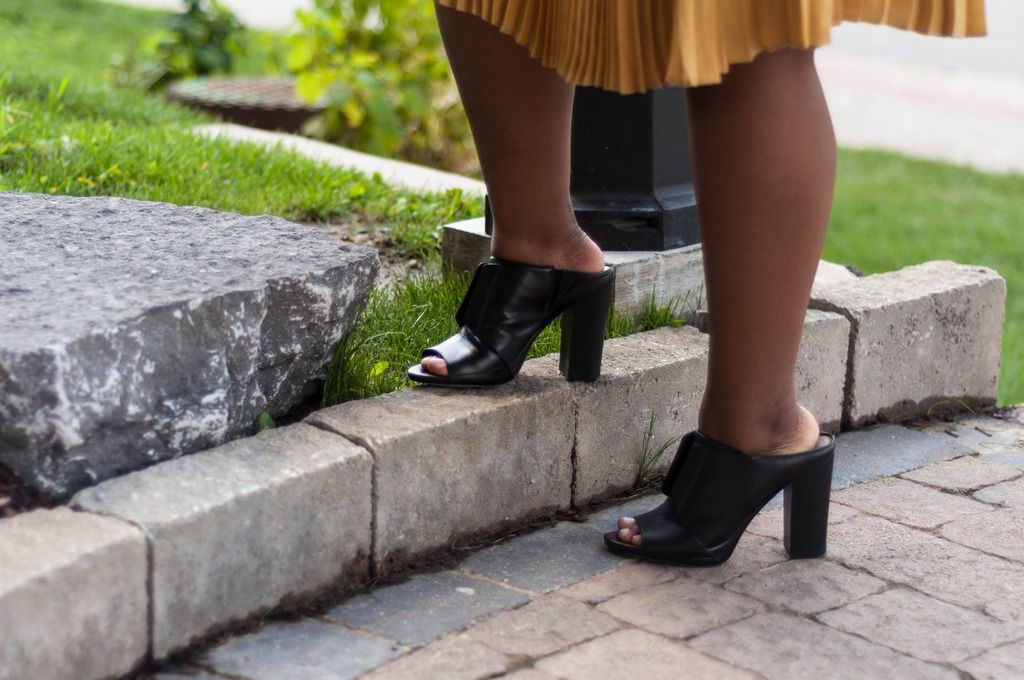 My amazing mules are Pour La Victoire. You can't go wrong with a sleek black shoe but the front design really sets it apart. I am 100% sold on this trend!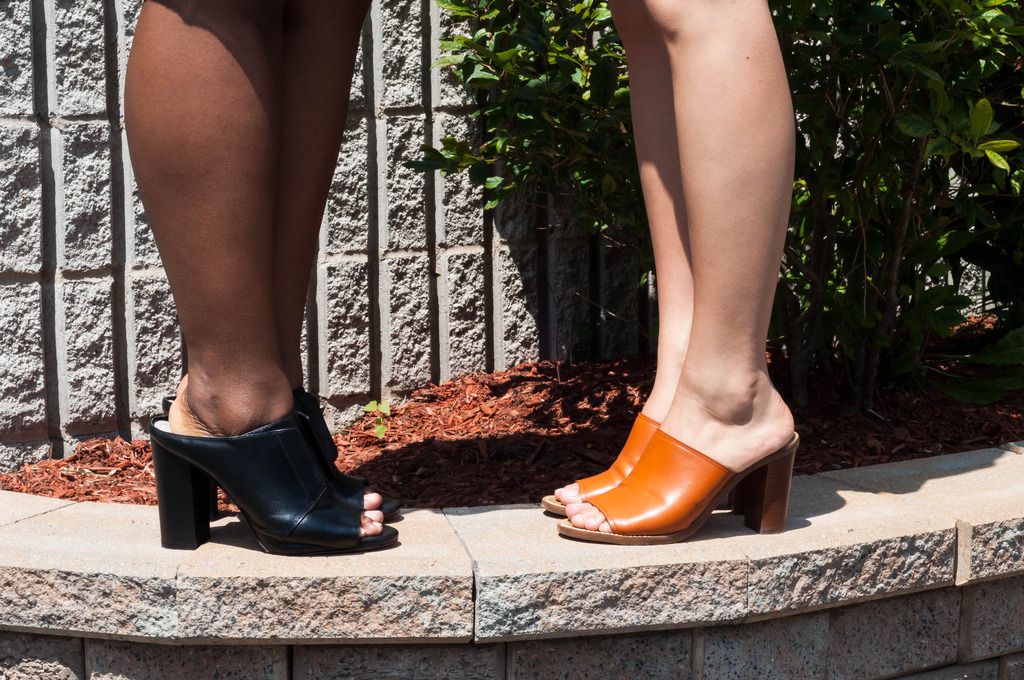 Nancy: I started spotting mules on the scene sometimes last summer and cringed. I mean, mules bring me back to the early 2000's, where my cool aunt bought my 10 year-old self a pair of beige woven mules. I remembered being unimpressed. The 2015 mules are not the mules of yester-years: the 2015 mule has grown up sleek and sexy, and is the perfect blend of comfort and class.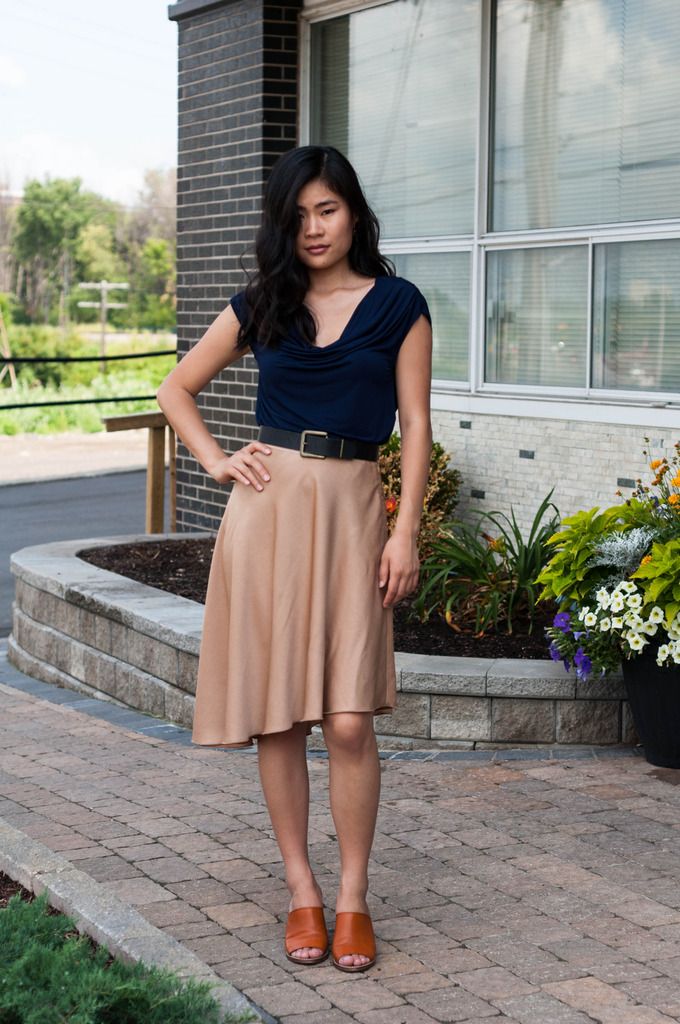 Take this outfit for example, the mules of the past would've never been able to pull off office chic. Never. These new mules however, lend an acceptable (and much needed) length to my legs. I love my gorgeous Club Monaco skirt that I got on sale (for still far too much), but skirt lengths that hit me at the knee or below give me granny calves when I forgo heels. Plus the burnt orange really brings out the jewel tones of the gold skirt and the deep blue RW&Co shirt. Verdict? These mules stay.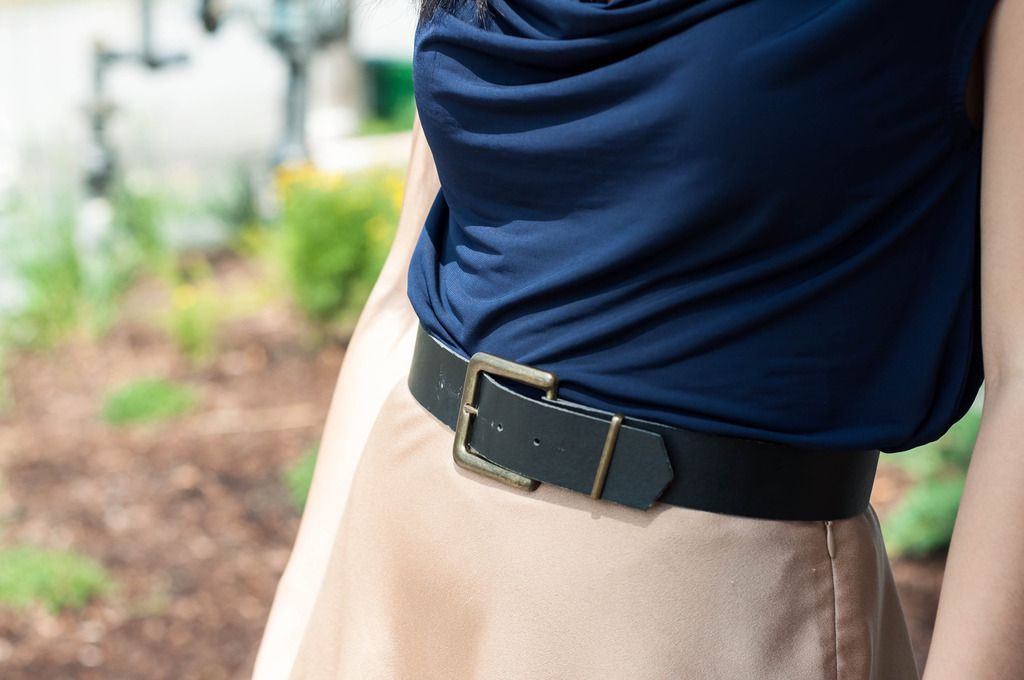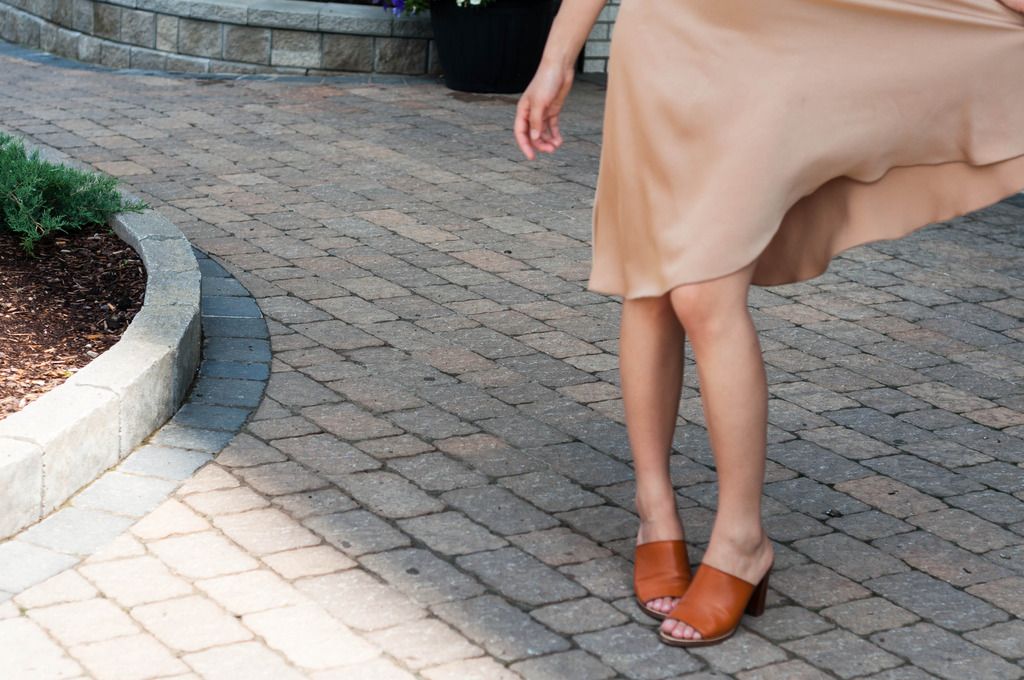 The effortless flow of the skirt and the draping of the shirt bespokes of romanticism so I went with it. The vintage leather belt defined my waist and I waved my hair for a soft tousled look. Now if only my face will cooperate...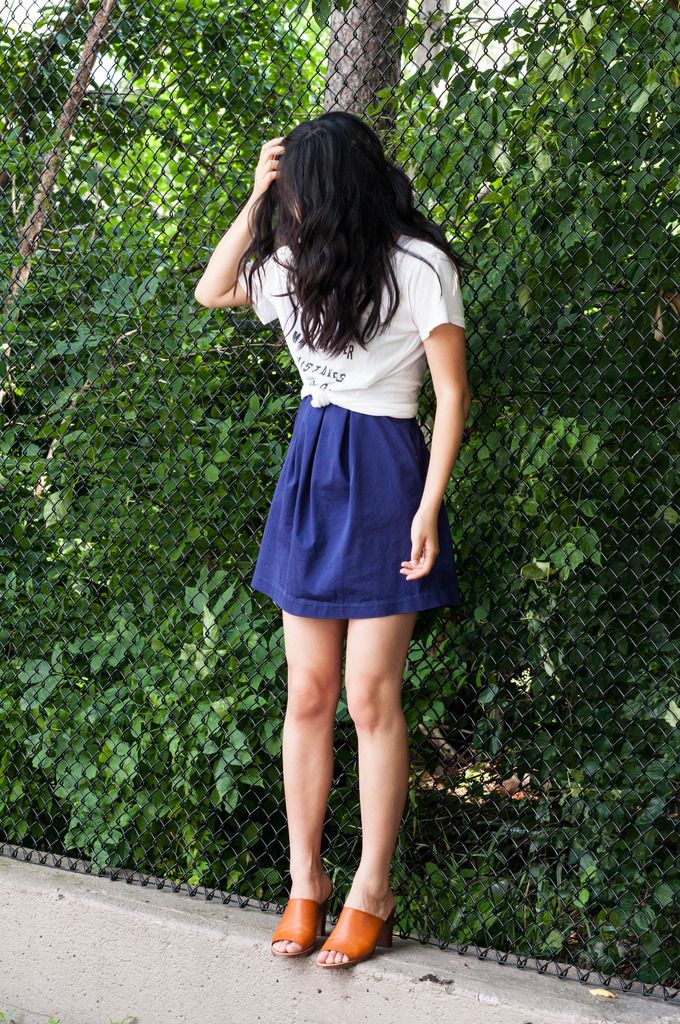 I have office shoes, workout shoes, fall shoes... but my favourite kind are ones that I can wear everywhere, for any occasion. For this casual weekend look, I paired my mules with my indigo Aritzia dress (also seen in this blog post a year ago!) and an oversized white Aritzia tee. The look is playful and fresh, with a hint of legs-for-days sexy. And as for why I am posing precariously on a ledge? I just like to climb things and not die.
A bit ironic I suppose. My tee says "I will make better mistakes next time". Next time, I'll find a higher ledge ;) .
How do you like 'em mules?
Till next time,
~Bolu & Nancy