19 Questions with Katie of YOWCityStyle
Nancy: Happy 2016 lovelies! For our first blog post of year, we're featuring one of our favourite Ottawa bloggers, Katie Hession. Katie runs YOWCityStyle on Tumblr and Instagram, highlighting Ottawa's fashion and lifestyle "as told by the people who live it and love it". We've creeped her Instafeed for the longest time (and even did a bit of creeping in person once... but that's another story). When I got her message on my way back to Ottawa that she would like to feature us (OMG), we were super excited and thought it would be really fun to do a feature on Katie too. #coolkids Inspired by Vogue's 73 questions video series, we played a game of rapid-fire 19 questions with Katie to get to know her a bit more. Ready to find out whether Katie would rather be bald or have nonexistent brows? Read on to find out!
Tea or coffee? Coffee
What's your ultimate lens? the 50 mm
Flats or heels? flats
Sunnies in winter, yay or nay? yay
Would you rather shave your head or your eyebrows? My eyebrows...You can always paint them back on! I love my hair. (side note: we're obsessed with her hair too. #BlondesHaveMoreFun)
What is your favourite thing about Ottawa? I love that you can have a city vibe as well as escape it so easily and get to the outdoors.
What's your favourite colour? Sparkle.
What's your favourite food? If I'm having a meal, one of my favourite ways to eat is by sampling tasting plates. Variety is a big thing. When I go out to eat with my husband, we tackle the menu together as a team so we can try everything.
3 things you always have in your bag? iPhone, lipsticks, and snacks for my kids.
What is one place you would like to visit right now? Tokyo
Do you have a green thumb? Not at all. My best plant is called Mother-in-law's Tongue; I water it every 3 months and it looks amazing.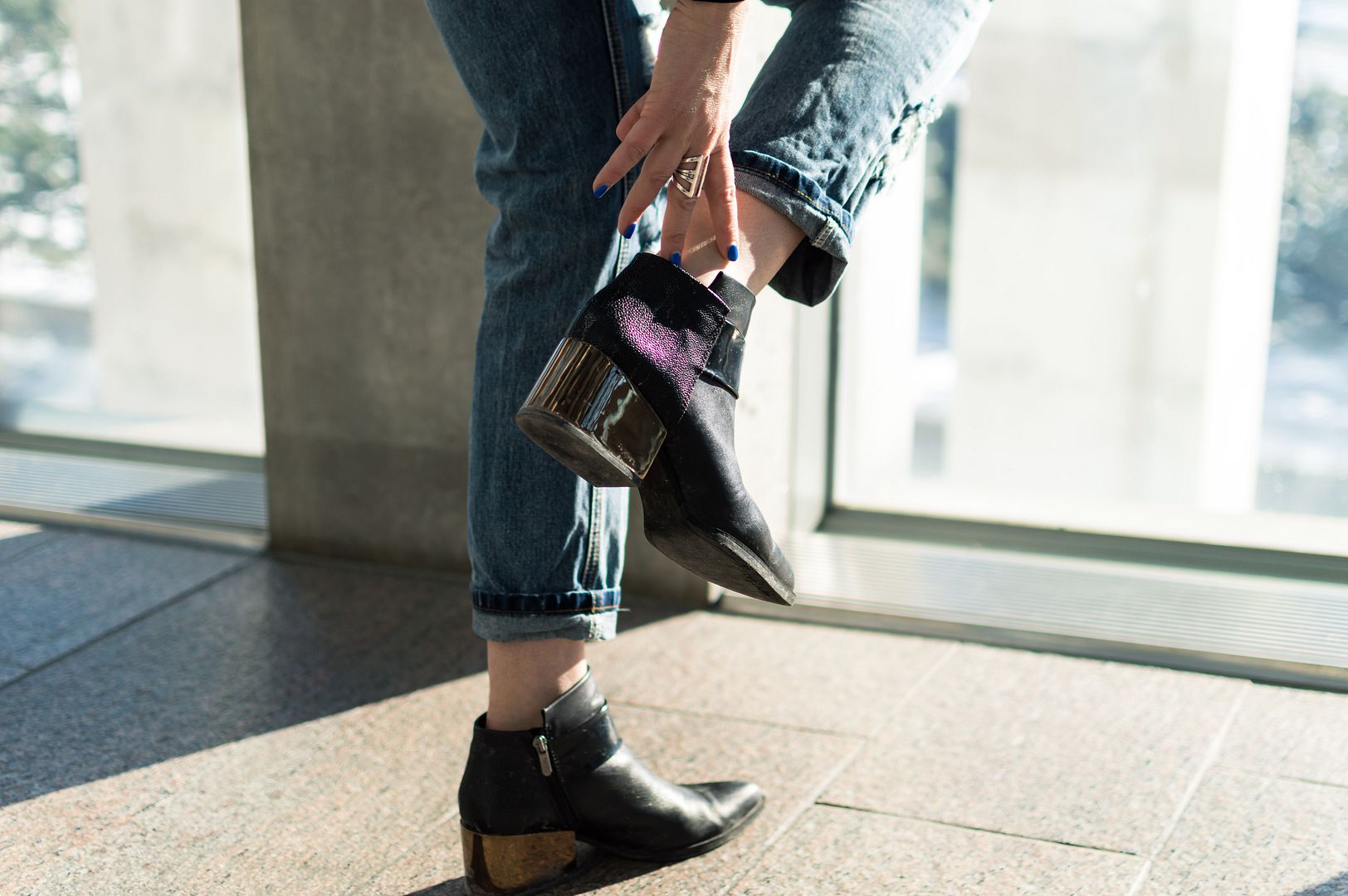 What's your one makeup must have? Lipsticks. Gazillion of lipsticks!
Cheese or chocolate? That's impossible to choose... I eat chocolate more than I eat cheese. My husband and I eat good quality dark chocolate everyday. We cut it up into little pieces so it takes forever to eat!
So chocolate then? ...Maybe... I guess I don't love all cheeses, but I love all chocolate... Except for Pot of Gold-- I can't stand those.
Weirdest dream you've ever had? When your pregnant, you have the weirdest craziest dreams and now I can't think of a single one.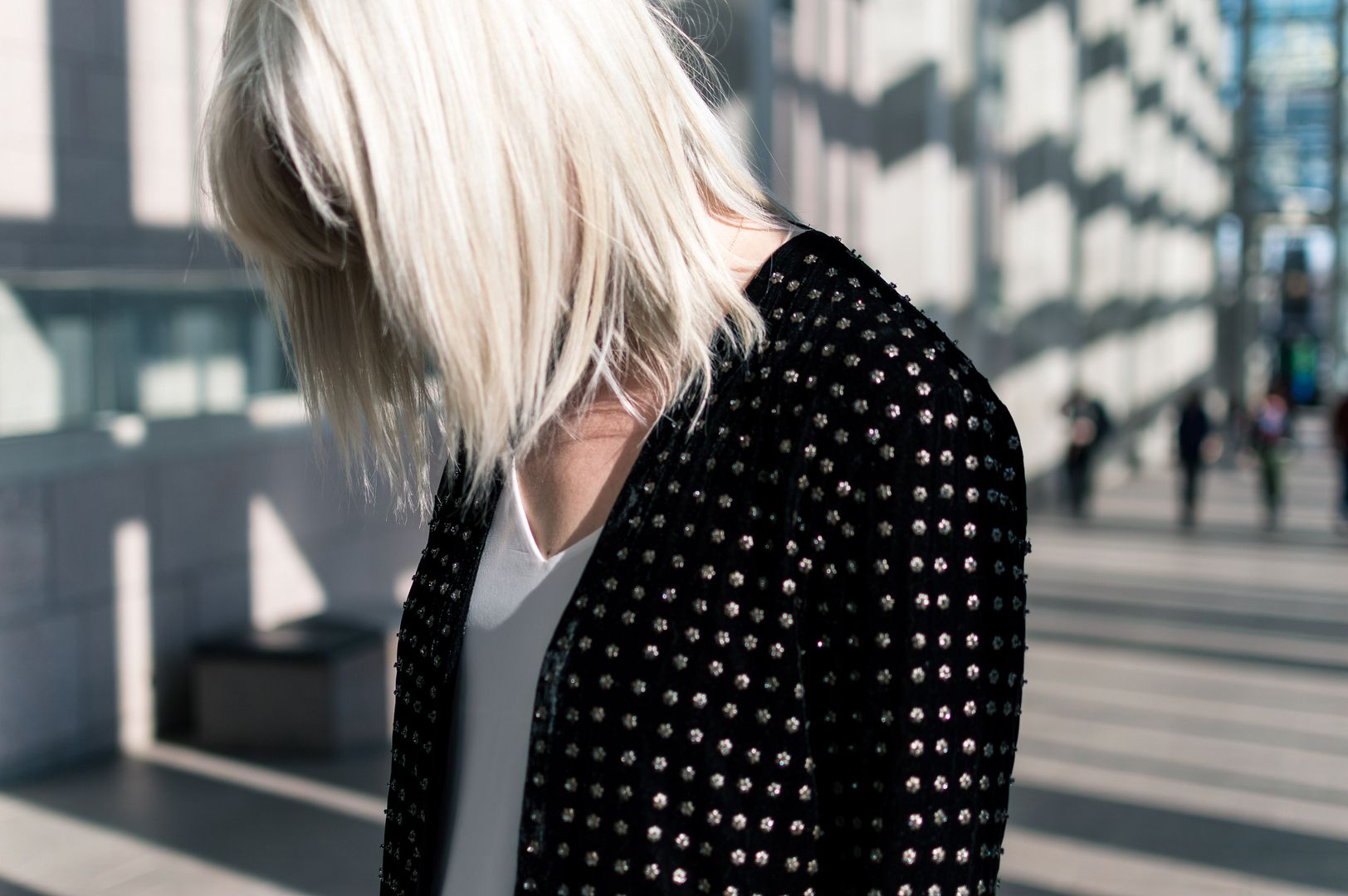 Favourite TV show of the moment? Workaholics
Tumblr or Instagram? Instagram
Favourite perfume? I dont really wear perfume, but I've always liked Flowerbomb.
Best gift you've ever received? My children!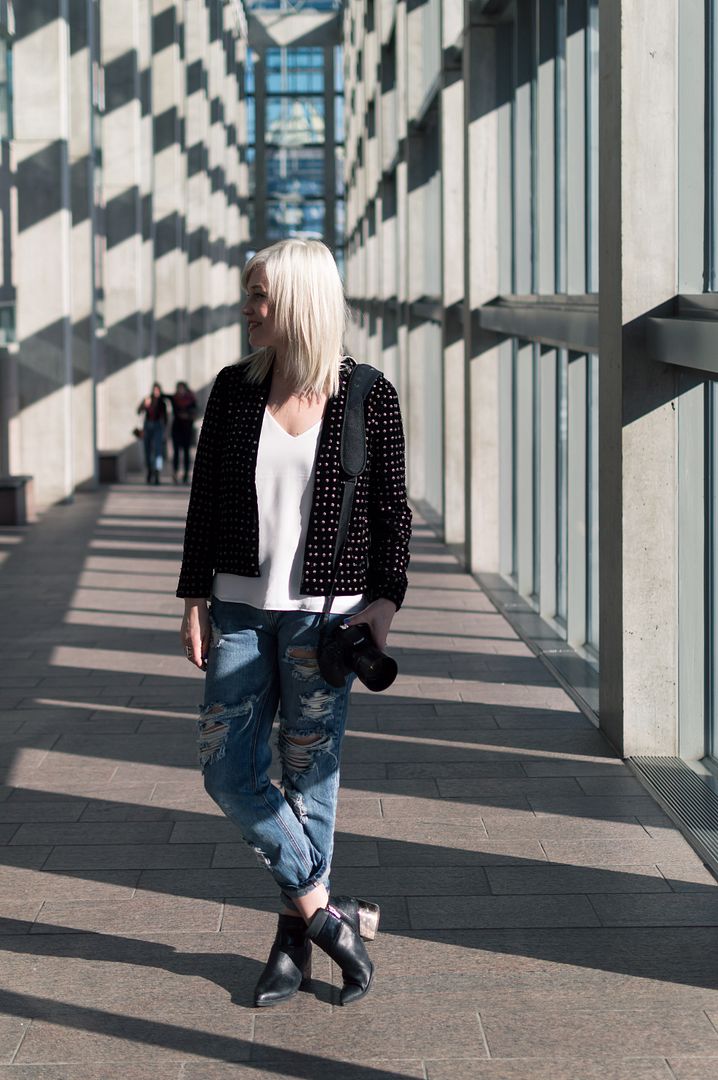 What's the greatest thing about what you do? Meeting people, hearing all the great things people say about the city then going to check them out myself.
Katie's outfit details:
Top: Topshop
Studded velvet blazer: Topshop
Jeans: One x One Teaspoon bought at NRML
Booties: Sam Edelman
Ring: Jenny Bird
Watch: Daniel Wellington
It was super fun chilling and getting to know Katie in person. I'm just happy that she finally found a solution to my long-standing dilemma over whether I would shave my head or hair (although whether I'd be able to draw matching brows everyday...).
Find out what we love about Ottawa in our YOWCityOttawa feature!
Till next time,
~Nancy & Bolu