#BaliFriendshipMoon: The Gili Islands
Nancy: To be totally honest with you, I didn't completely disconnect from work until I reached Gili Trawangan, one of three small islands close to Lombok. In fact, since the time in Ottawa is the exact opposite of Bali's, I couldn't resist connecting with work before heading out to the ferry and losing wifi. The Gili Islands were all about sunshine, the beach, and a good time. So I finally managed to push work into the back of my mind and live life in the moment.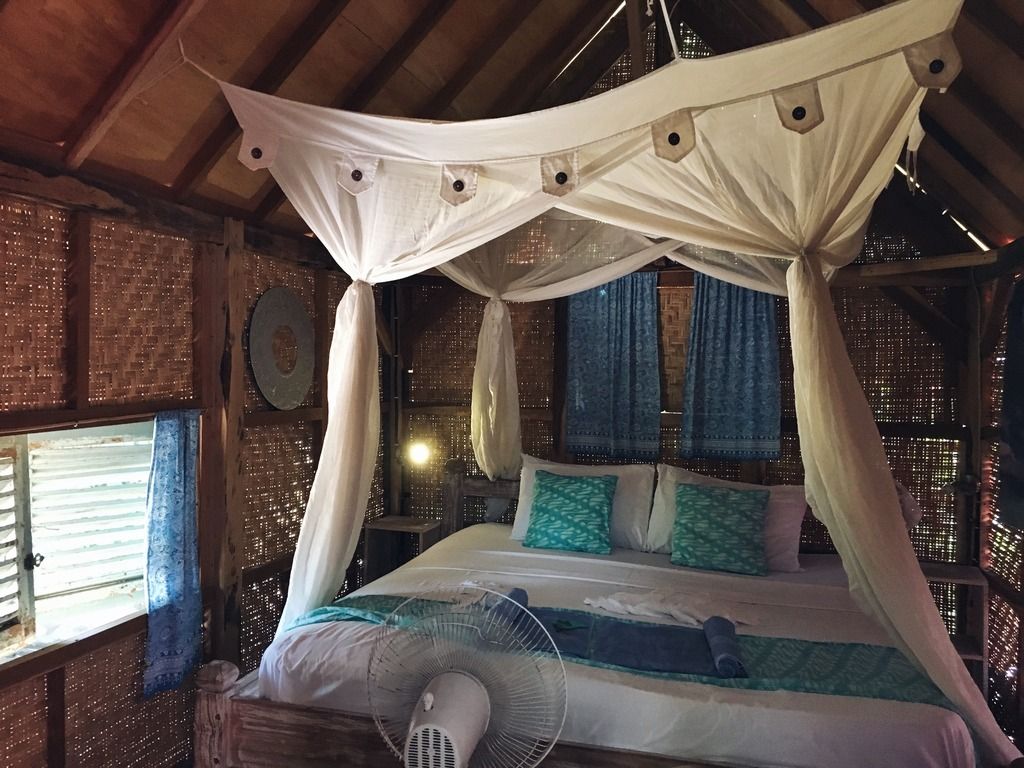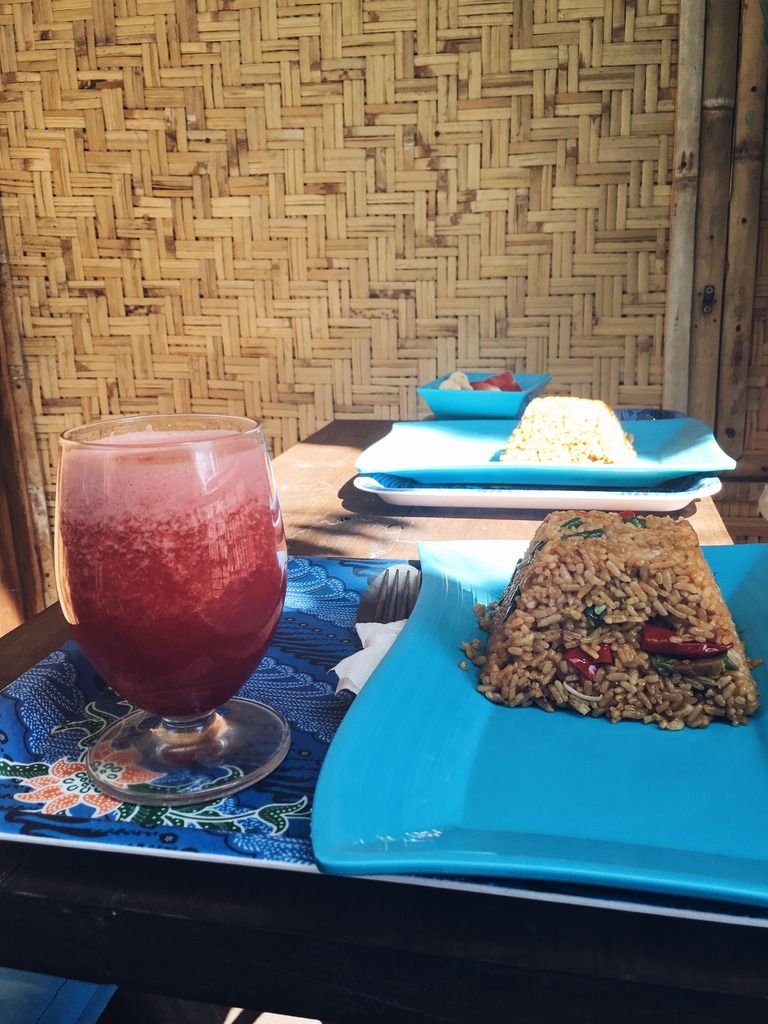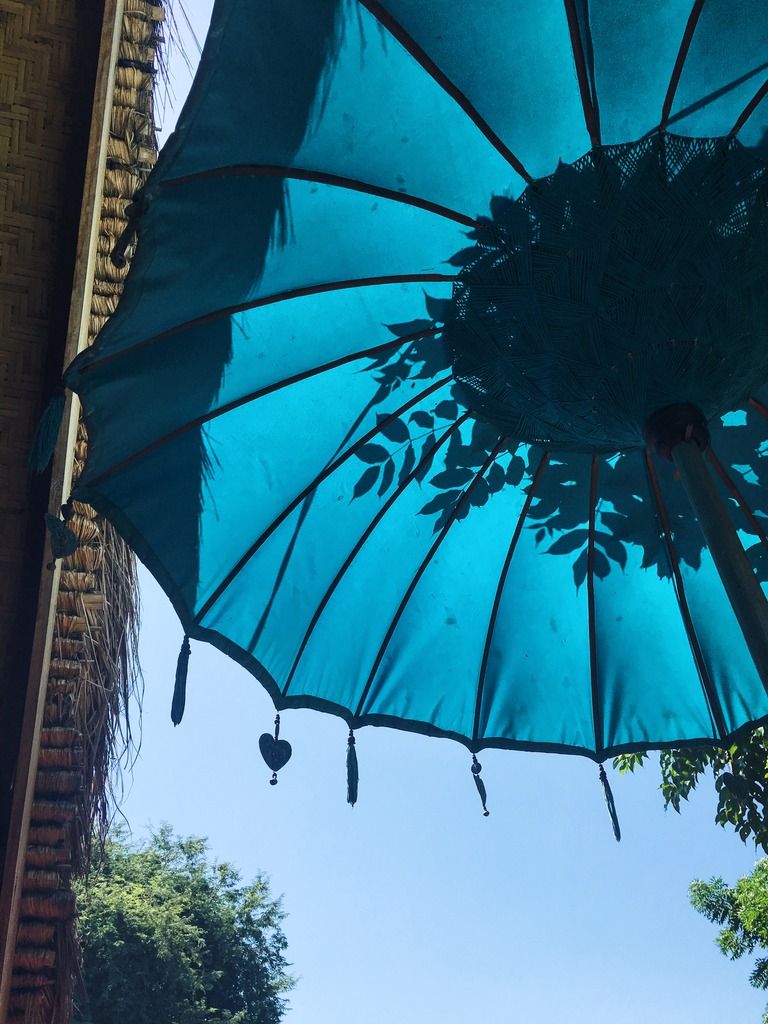 We stayed a total of 6 days and 5 nights in this little bamboo loft called Kupu Kupu, that we reserved off of Airbnb. We made our selection purely off of the price and the cuteness, and we didn't regret it! Despite not having AC or a decent size washroom (or hot water), we had the greatest time thanks to Kupu Kupu's awesome staff and their amazing nasi goreng breakfast. Hands down, Sayan (one of the staff) made the best nasi goreng that we've had in our entire two week trip.
The three Gili islands are all non-motorized, which means that the only forms of transportation is by donkey cart, biking, or walking. Even so, Gili Trawangan was bustling and not at all the quaint little place that I had pictured in my mind.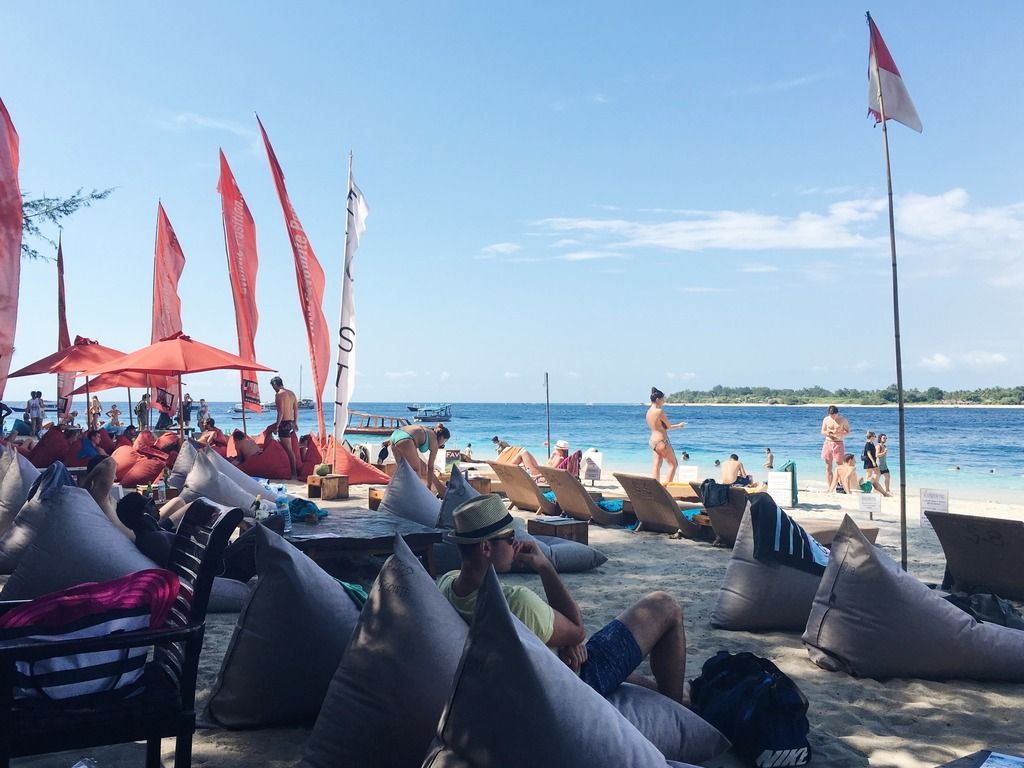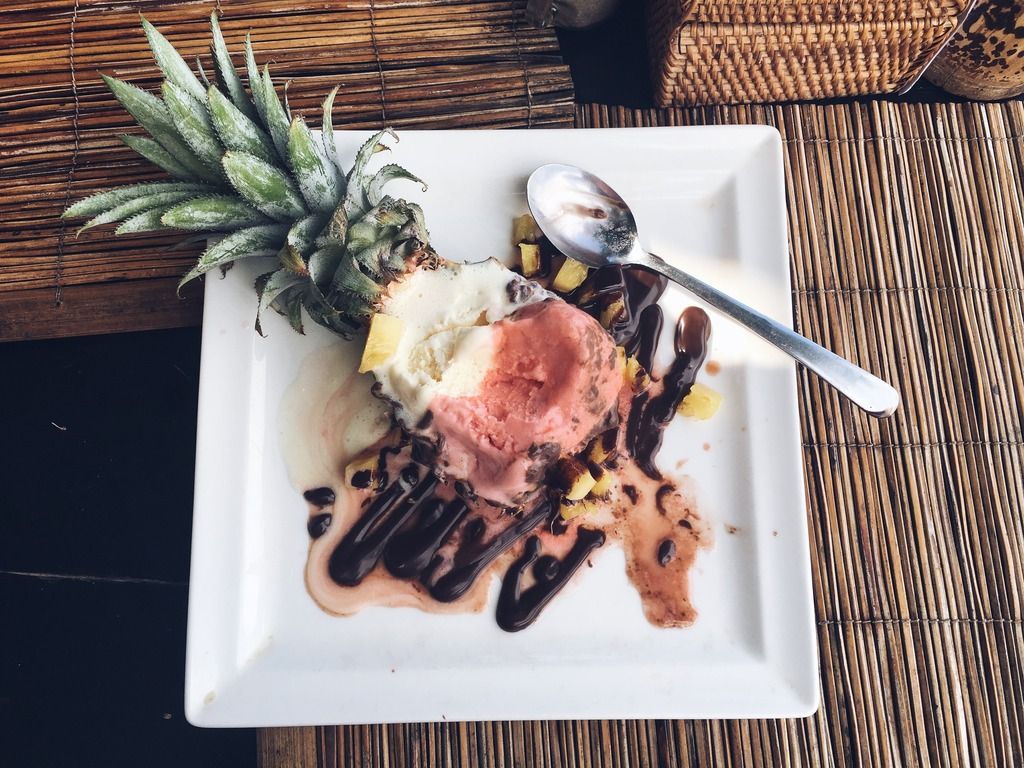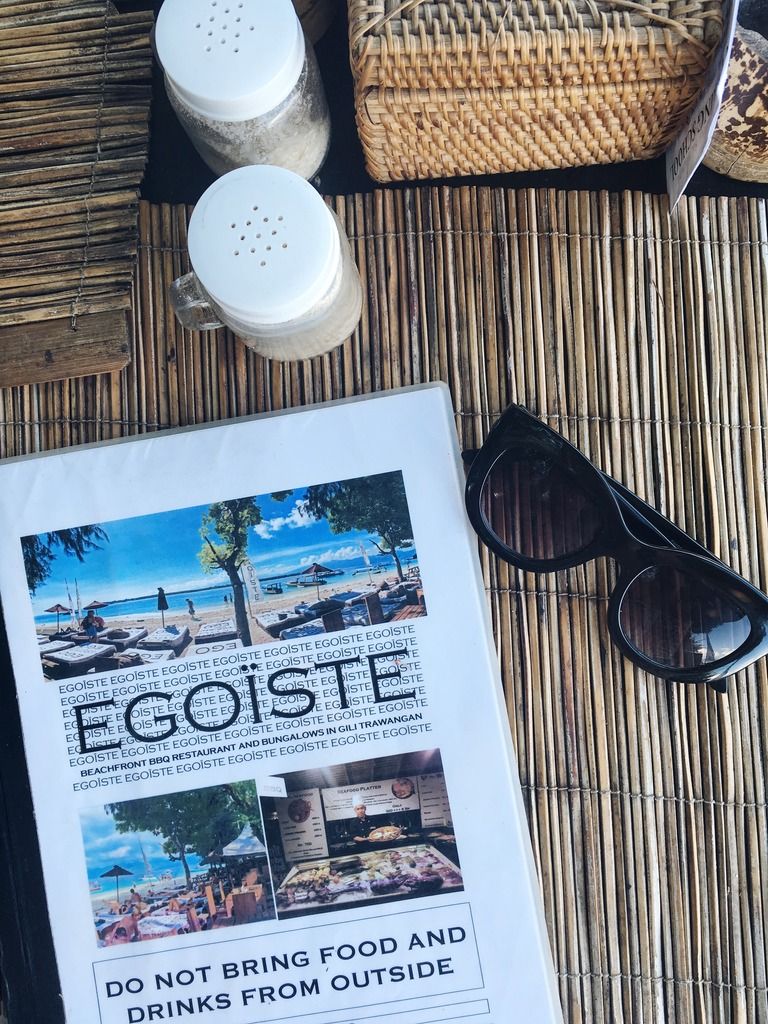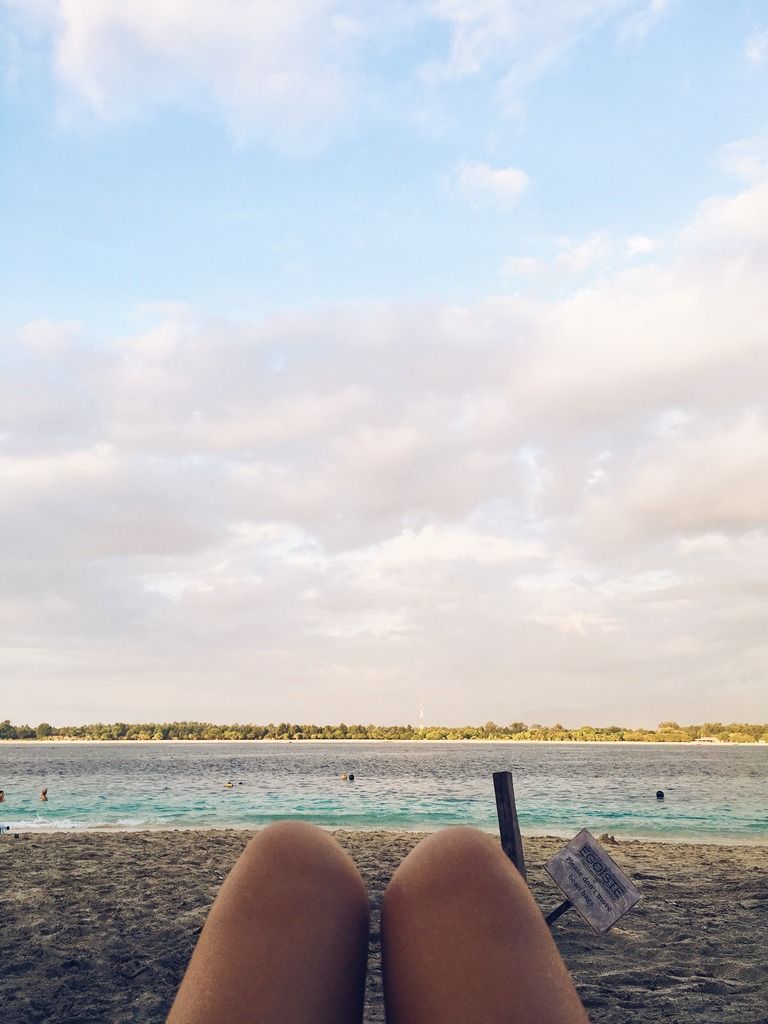 Gingerly stepping around donkey doo and bikers, we went off to our favourite activity: lounging by the beach and eating good food! The Egoiste restaurant had okay food, but it was the ice cream chocolate pineapple concoction that blew my mind. All three of my favourite foods together? Yes, please!
I found most of the seaside restaurants in the Gilis to be overpriced (in comparison to local pricing) and bland tasting. I wish they didn't rely so much on the guaranteed good view and beach-front seats.
A photo posted by Keng Pereira (@kengpereira) on Apr 4, 2016 at 6:11am PDT
When Angela and I were doing our research for the Gili Islands, these gorgeous swings kept showing up everywhere. They're beautiful, seemingly floating in the middle of the ocean, gleaming in the sunlight, and we were beguiled instantly. I googled its location and we decided to hunt down this swing set first thing on our second day. Google Maps said it was a 50 min. walk, and since I didn't know how to ride a bike, we walked... and walked... and walked. The humidity and sunshine that was so glorious just a day ago began to get to us. We kept walking. Nothing was going to get between us and this Gili T swing.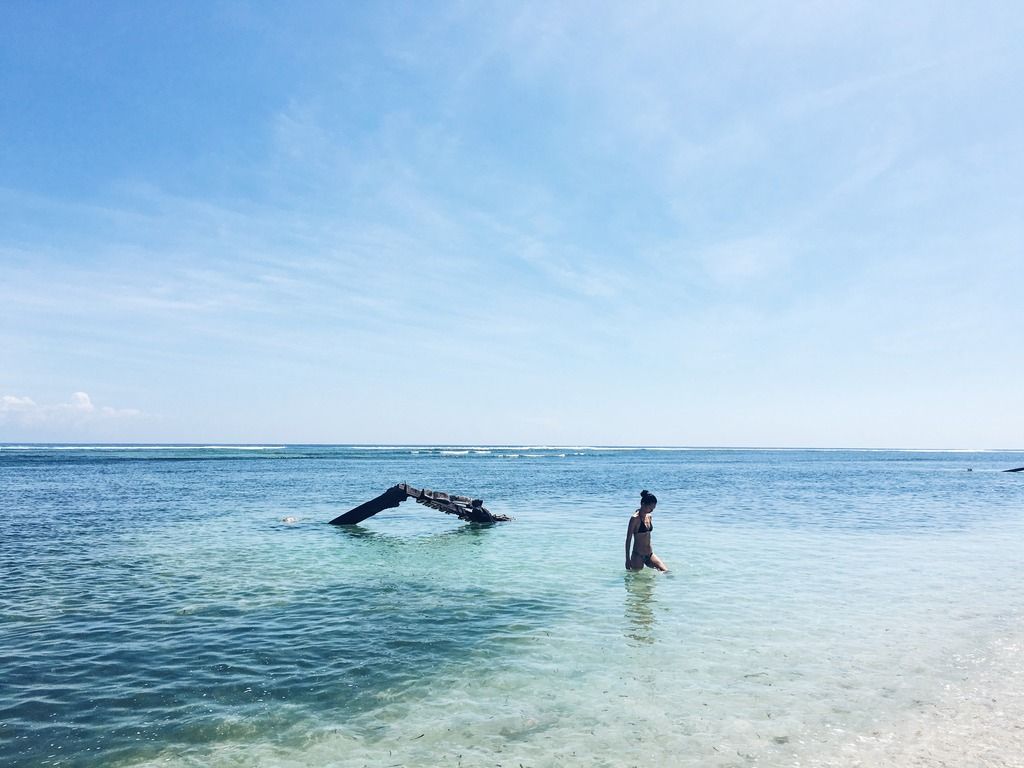 Nothing was going to get between us... except that the swing was broken.
Dreams dashed, we just couldn't deal with the thought of having to walk all the way back. We gave in and paid 12 bucks to ride a donkey cart back.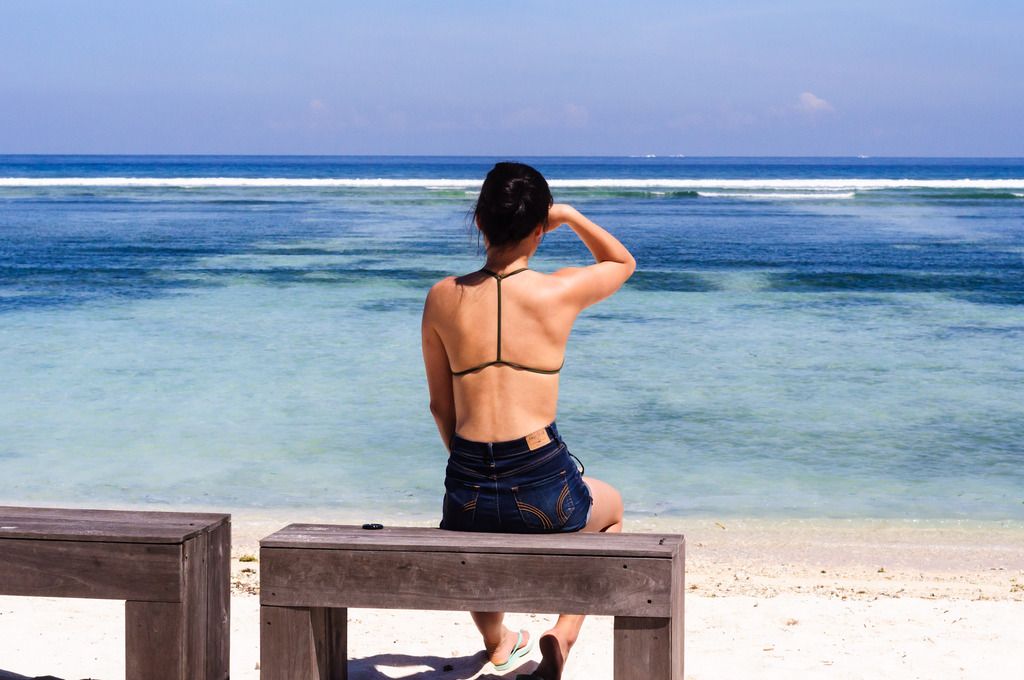 We then treated ourselves to a $5 fish pedicure, during which we were surprised with a complimentary shoulder massage! This seaside spa was fantastic actually. We later got a blissful seaside massage here.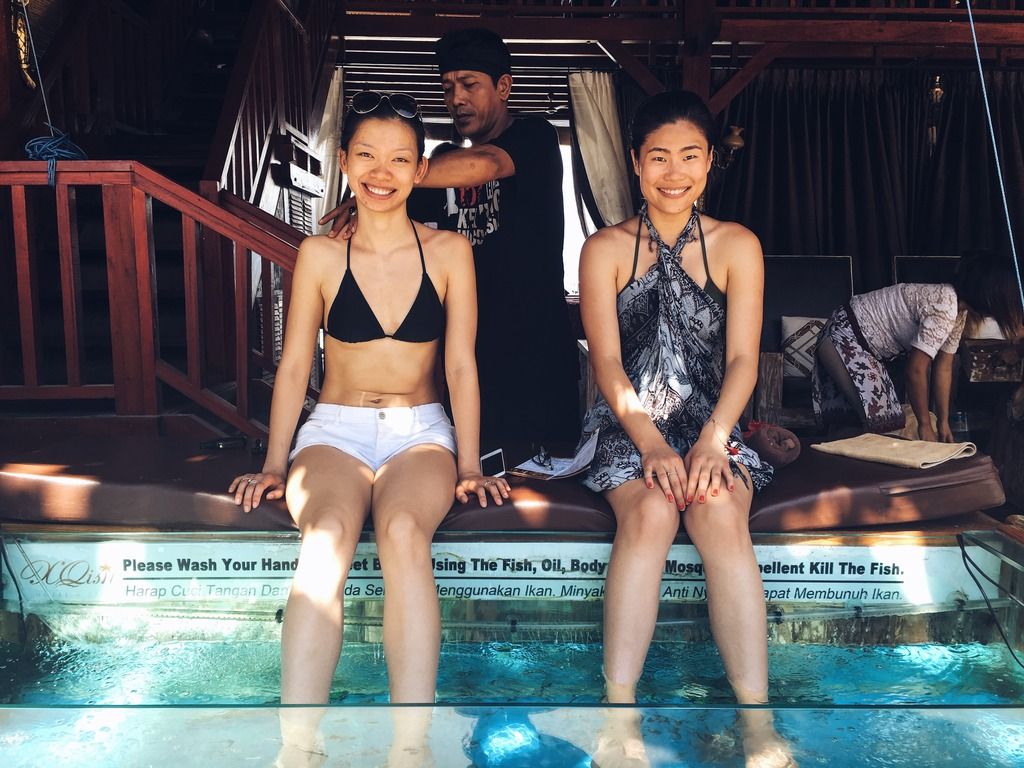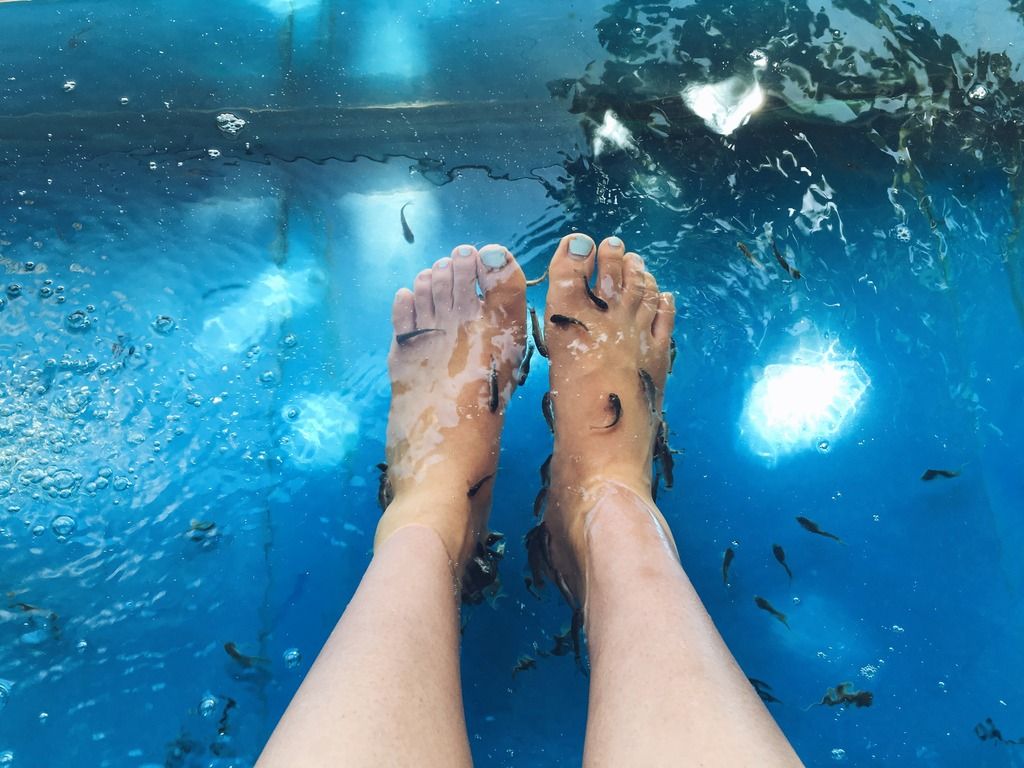 One of our favourite activity on Gili Trawangan was the night market held in the main square. Every night, vendors set up tents and serve up some delicious fish kababs and veggie dishes. The kababs are massive and are only $2 each. One of our favourite stands had a deal where you can get 3 free veggie sides if you buy 2 fish kababs at $3 each. Load that up with heaping ladles of peanut sauce, and I'm the happiest girl in Gili T.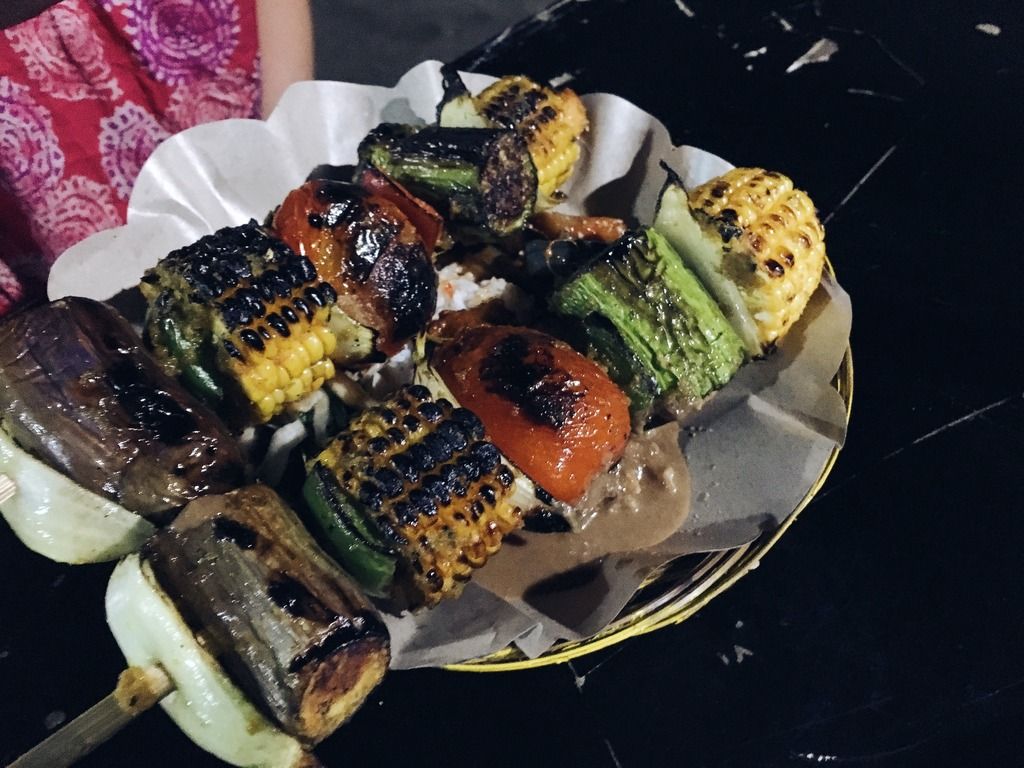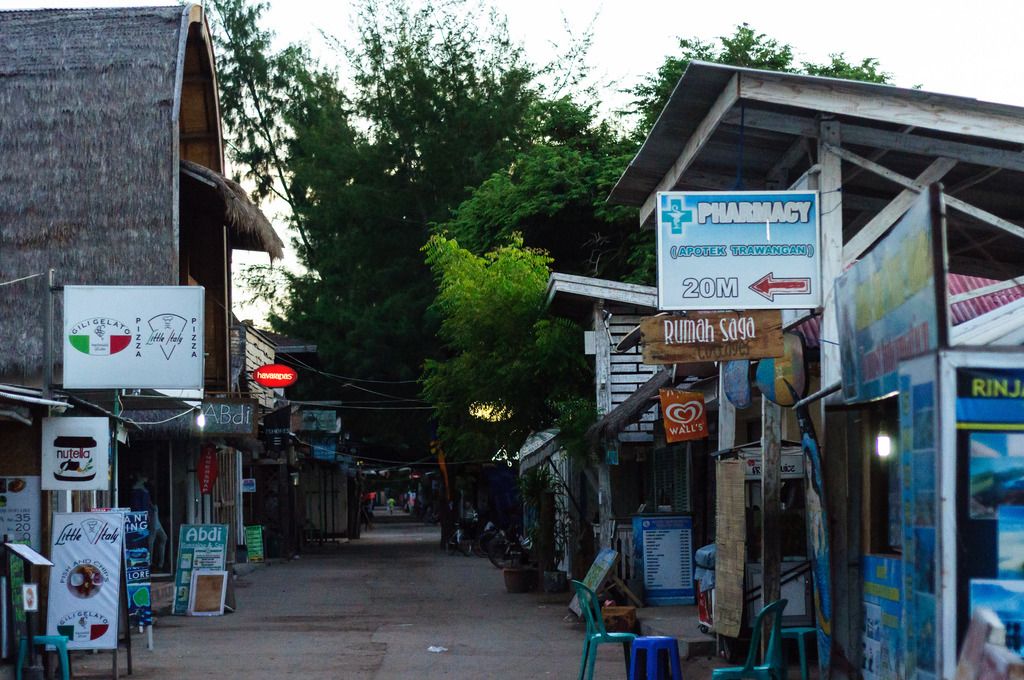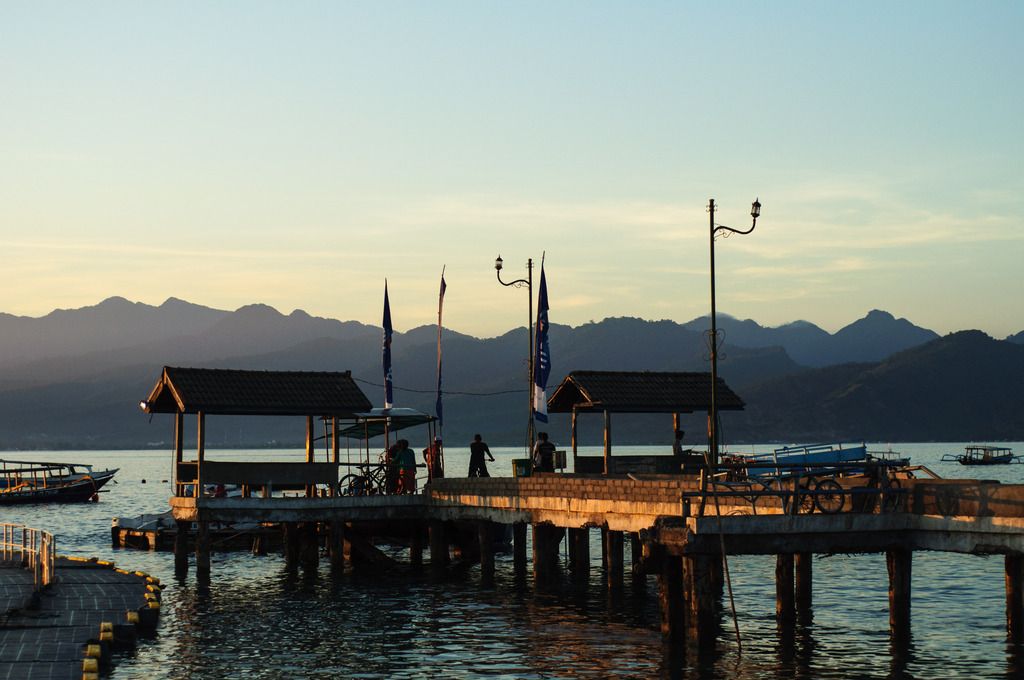 There are a ton of activities to do on Gili Trawangan, from diving, to snorkeling, to SUP yoga. We spent our mornings lounging on the beach with our fresh juices, and our afternoons and evenings snorkeling, swimming, stand-up paddle boarding, and window shopping.
Our favourite island however, was Gili Meno. Known as the middle island oft' forgotten, it was actually the Gili island I had pictured Gili Trawangan to be. After asking around, we took the local boat to Gili Meno. There's usually one morning departure and one evening departure, so it was important to arrive early. Tickets are super reasonable at $3.50 each way. If you can't wake up early enough to catch a public boat, a private charter can always be negotiated.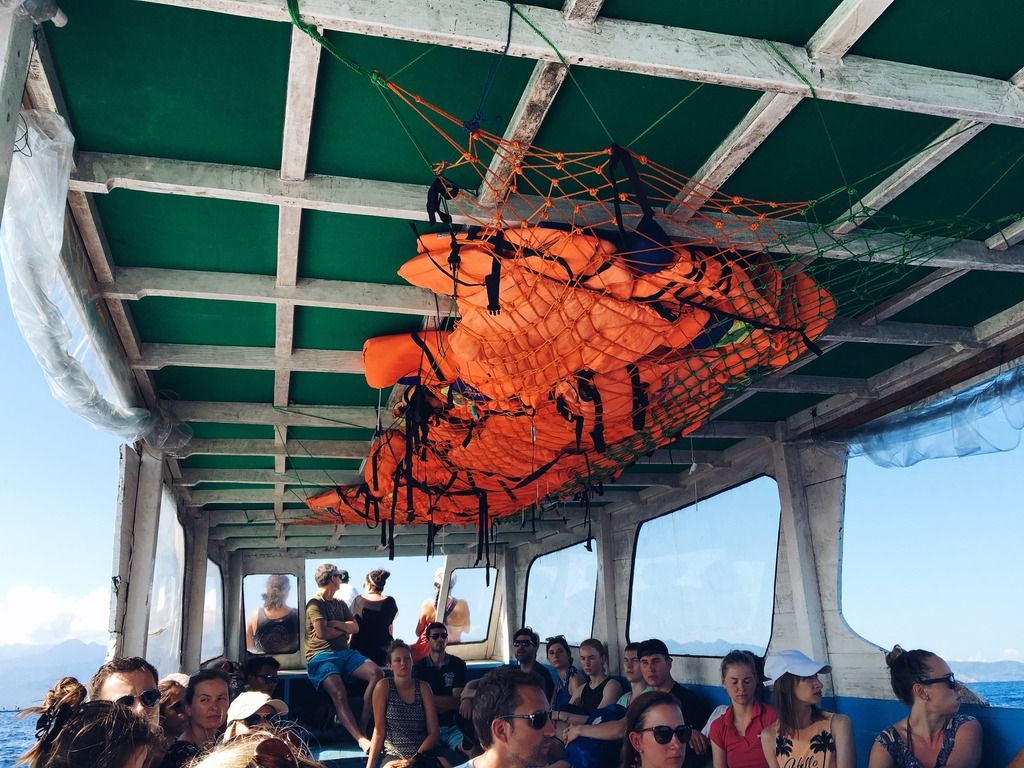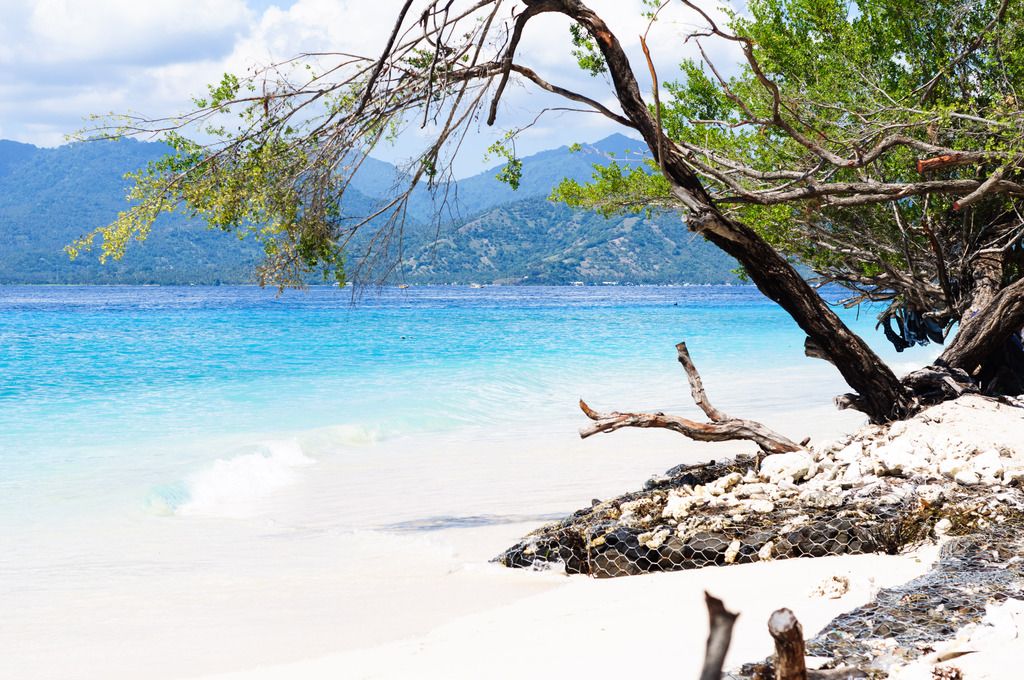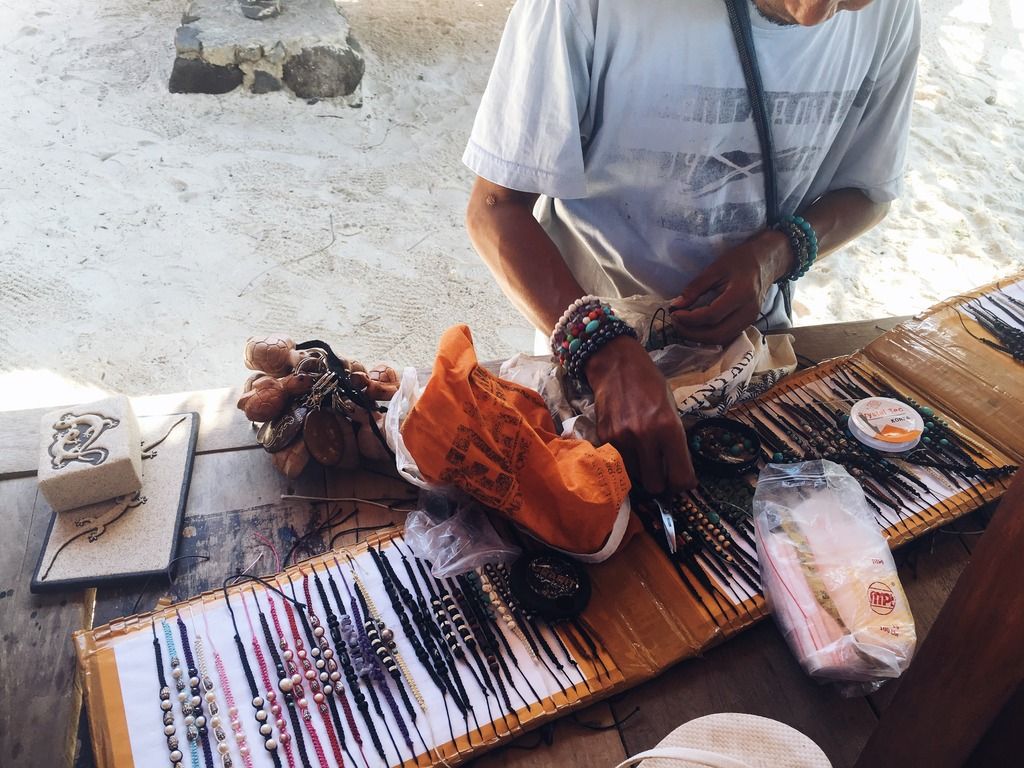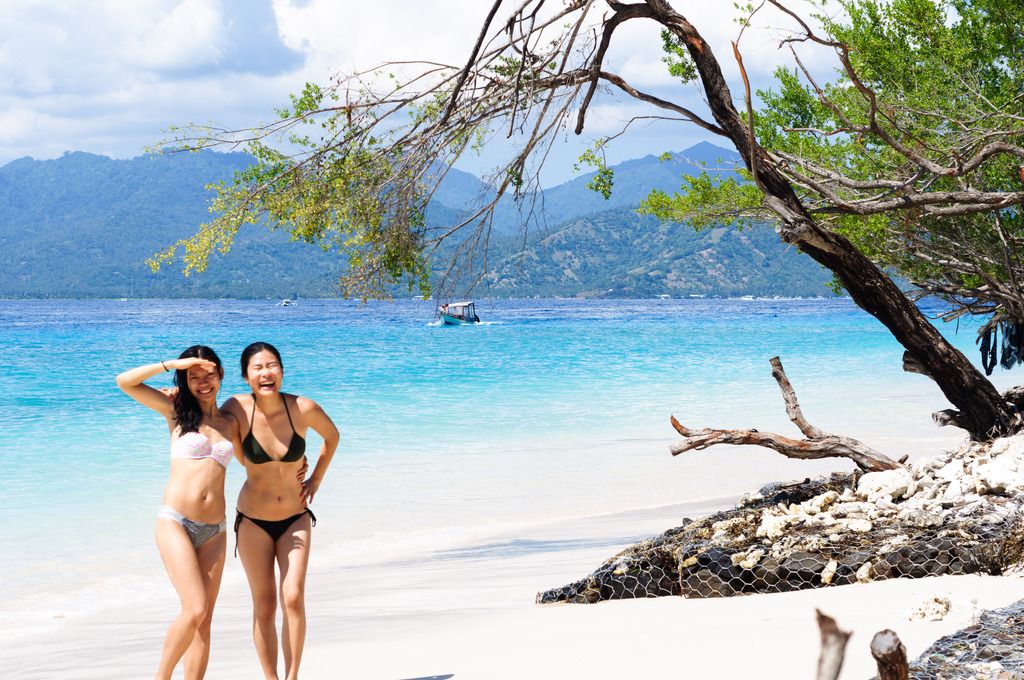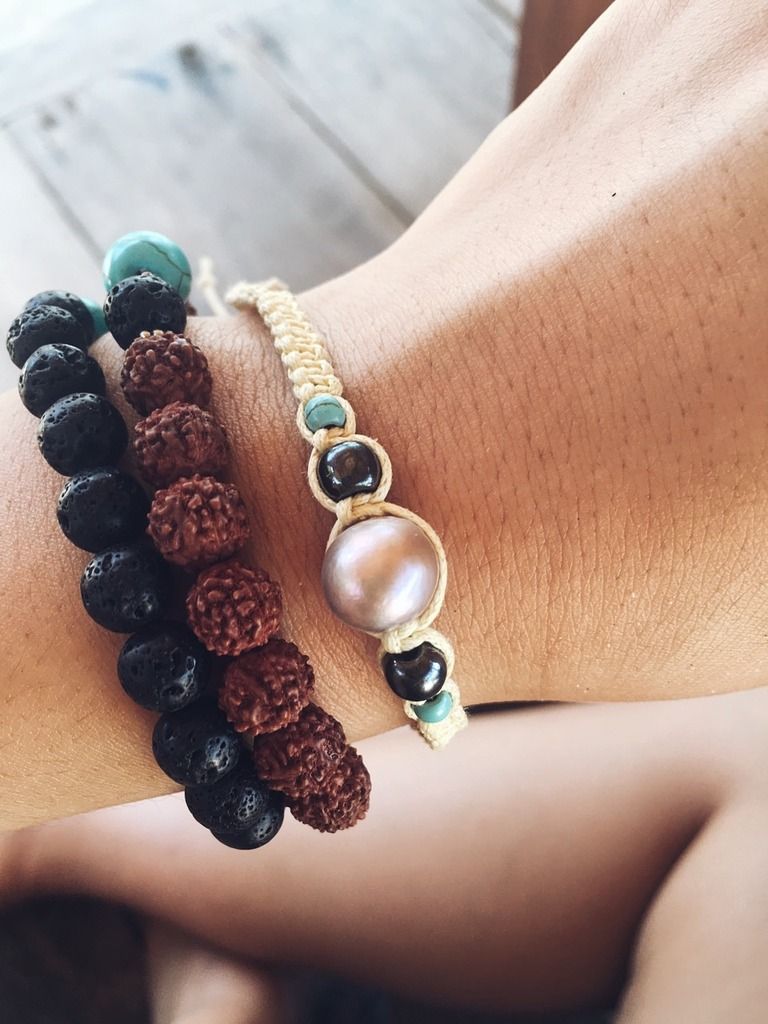 Less than 5 minutes from the harbour, we found our favourite beach. We relaxed on one of the gazebos of a restaurant nearby, bought some fruits and juice, and spent our entire day swimming, chilling in the sun, and buying bracelets.
One common sight throughout all three of the Gili Islands were the peddlers. Men walk around the island offering souvenirs, and usually, bracelets. Always a sucker for pretty things, I picked up a few mala bracelets, volcanic rock bracelets, and pearl earrings. Many of these peddlers would sell similar items, and it was amusing watching them trying to distinguish their wares from their competitor's. One man pointed at a pretty volcanic rock bracelet he was hawking and stated solomnly, "I don't make the same bracelets as everyone else on this island. I make culture." Culture, apparently, is the addition of a buddha head bead.
Nonetheless, the peddlers were very friendly and we were soon chatting about the full moon parties and life on the island. Unsurprisingly, I part easily from my money, especially when there's a good deal to be had. Angela and I were abysmal at bargaining when we first arrived in Bali. Certainly, we're still pretty awful bargainers, but we did manage to learn a few tactics throughout our shopping adventures. A good bargaining technique is to play "good cop bad cop". Basically, one of us would show our interest in an item while the other would pretend to be disinterested. After the interested one bargains down the price, the other person would display a little bit of interest and ask for a further discount. As usual, the more you buy, the more they'll be willing to give you a good price!
Our other tactic was to never ask for the price of something we had already bought. Honestly, we'd rather not know how badly we were ripped off!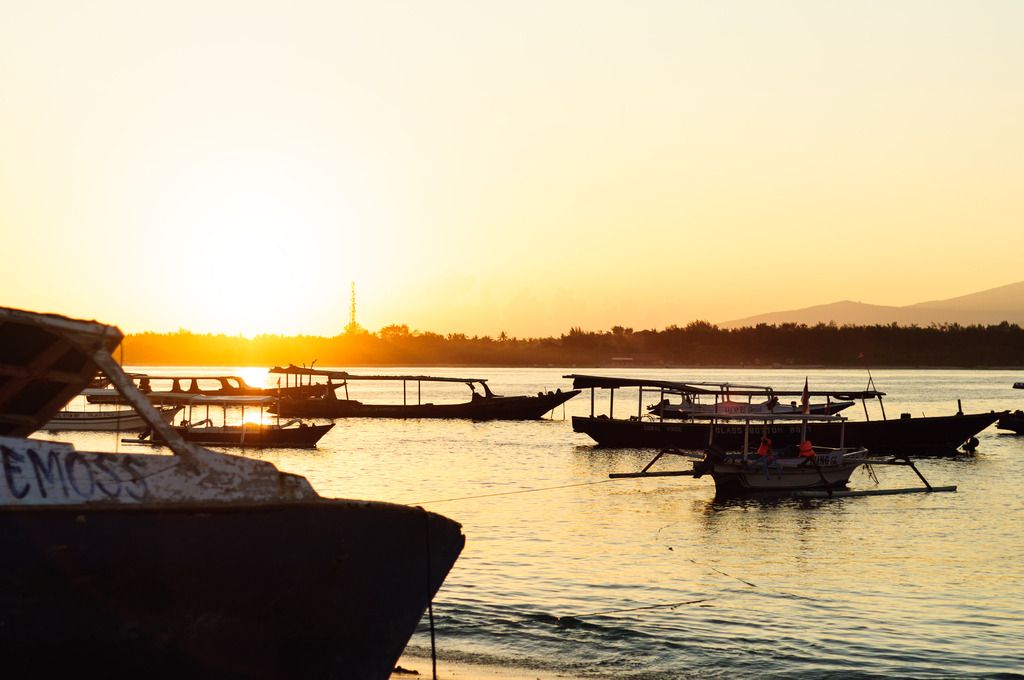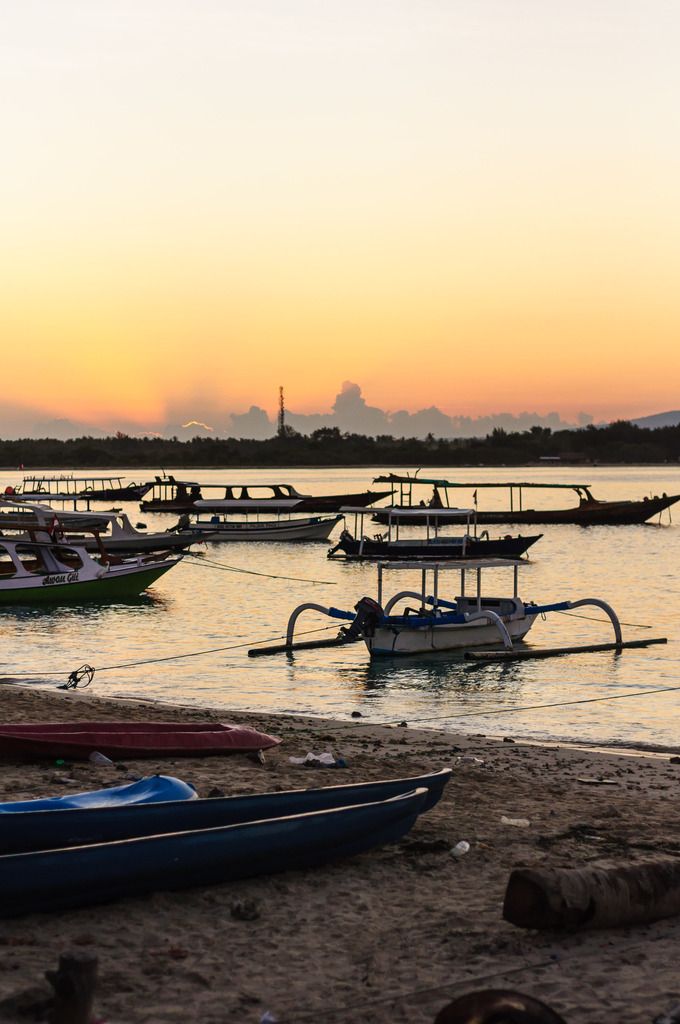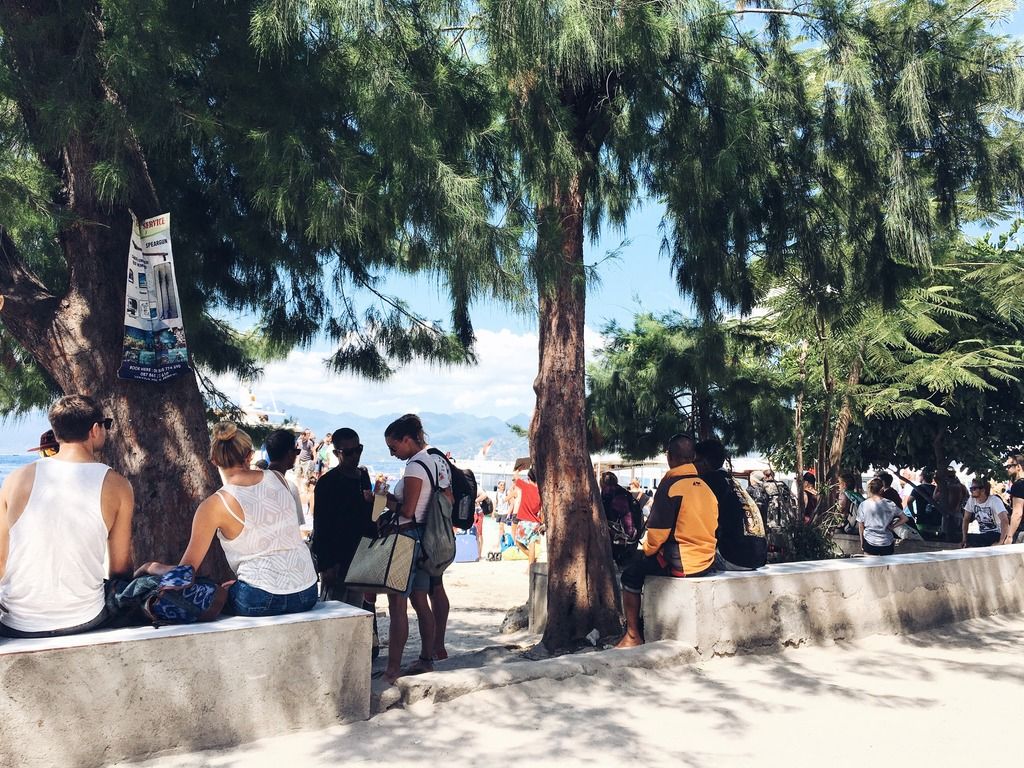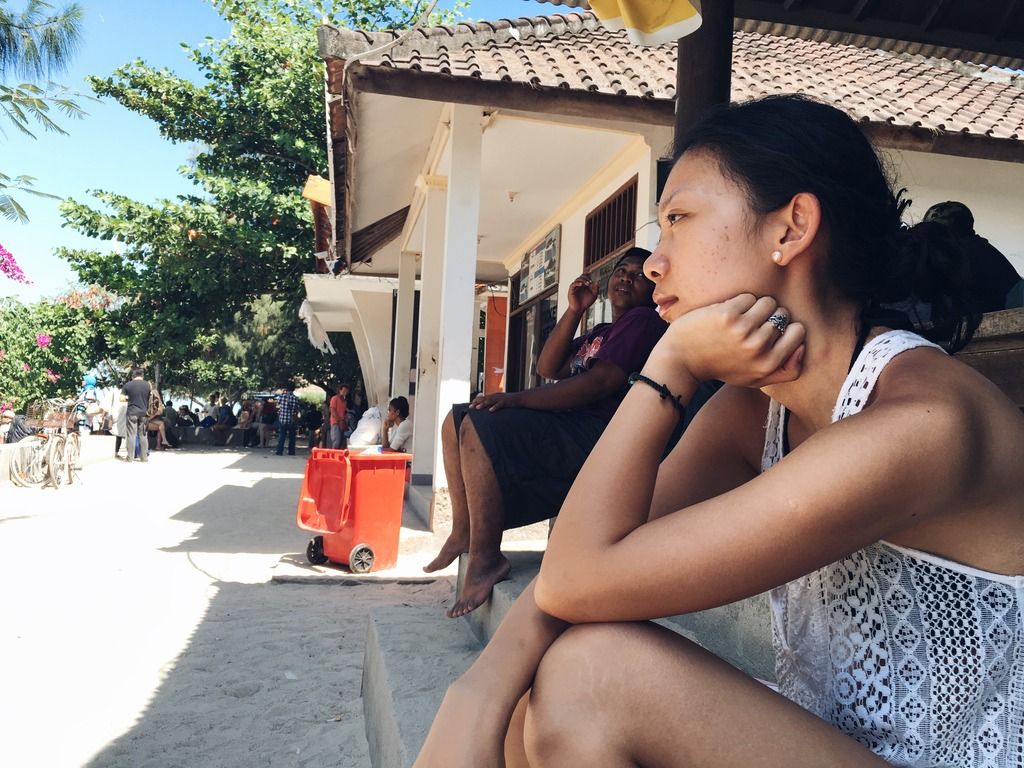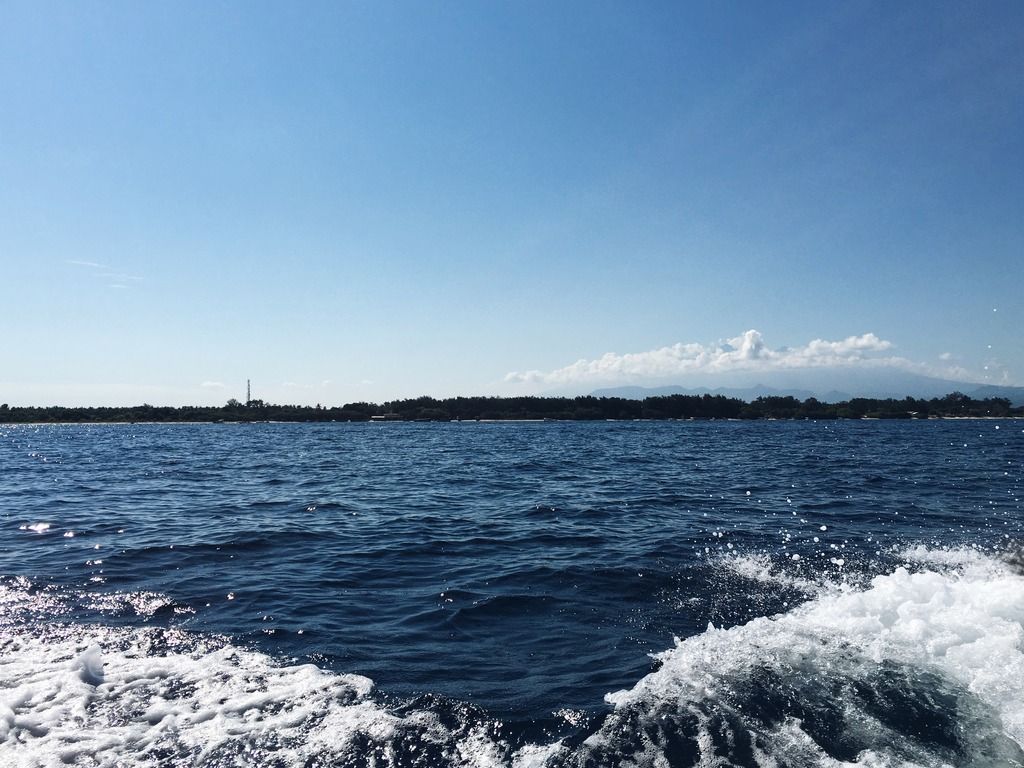 After one last sunrise, we got on the ever-late speedboat and made our way to our last leg of the #friendshipmoon. Check back next week for the recap on Ubud and temple hopping!
Till next time,
~Nancy